TRANSLATION NORMS OF NEOLOGISM IN SOCIAL MEDIA INTERFACE
Fitria Hardini

Magister Ilmu Linguistik, Fakultas Ilmu Budaya University of Sumatera Utara Jl. Abdul Hakim No. 1 Medan 20222 Indonesia

Eddy Setia

Magister Ilmu Linguistik, Fakultas Ilmu Budaya University of Sumatera Utara Jl. Abdul Hakim No. 1 Medan 20222 Indonesia

Umar Mono

Magister Ilmu Linguistik, Fakultas Ilmu Budaya University of Sumatera Utara Jl. Abdul Hakim No. 1 Medan 20222 Indonesia
Abstract views:
205
,
PDF downloads:
228
Keywords:
Neologism, social media interface, typology, procedures, norms.
Abstract
Social media interface has been translated into a variety of languages, including Indonesian. This research aims to identify dominant types of neologisms found in social media interface, describe translation procedures applied by translators in translating neologisms and translation norms in neologism translation. This research is qualitative research that was conducted by applying Newmark's neologism typology and translation procedures (1988) and Toury's concept of translation norms (1995). The results showed that 1) existing lexical items with new sense (words) is a type of neologism dominantly found in an interface, 2) transference, couplets and through translation are dominant procedures applied by translators which become norms in translating neologism in social media interface. It can be concluded that neologisms found in social media interface have not had equivalents in Indonesian and neologisms cannot be translated since they are terms or jargons used in social media interface.
Downloads
Download data is not yet available.
References
Bauer, L. (1996). English word-formation. Cambridge: Cambridge University Press.
Catford, J C. (1965). A linguistic theory of translation: An essay on applied linguistics. London: Oxford University Press.
Chesterman, A. (1998). Description, explanation, prediction: A response to Gideon Toury and Theo Hermans. Current Issues in Language and Society 5(1-2): 91-98. Retreived from https://artisinitiative.org/online-course/module-theories-of-translation-interpreting/unit-2/unit-2-chapter-7-norms-theory/
Fumani, M. R. F.Q. (2017). Translation of neologisms in fishery-engineering based on kurki's (2012) framework: A strategy-based analysis. International Journal of English Language & Translation Studies, 43-52.
Hameed, S. G. (2009). Coping with neologisms in English/Arabic translation. (Unpublished Master Thesis). American University of Sharjah
Hanaqtah, M.F (2016). Translation English neologism in military and political texts into Arabic: Issues and strategies. (Unpublished Dissertation). Retrieved from http://eprints.usm.my/ [15 September 2018]
Kaplan, A.M. & Haenlein, M. (2010). Users of the world, unite! The challenges and opportunities of social media. Business Horizons. 53(1): 59-68.
Liu, H. (2014). A probe into translation strategies of tech English neologism in petroleum engineering field studies. Literature and Language, 9(1), 33-37
Miles, Huberman & Saldana. (2014). Qualitative Data Analysis [3rd edition]. Arizona: Arizona State University.
Mworia, R.M. (2015). Use of English neologisms in social media: A case of Twitter language in Kenya. (Master Dissertation, University of Nairobi). Retrieved from erepository.uonbi.ac.ke [10 September 2018]
Newmark, P. (1988). A textbook of translation. Hertfordshire: Prentice Hall
Putra, D.A., Djatmika & Wiratno, T. (2017). Analisis kualitas terjemahan terhadap istilah-istilah teknis di dalam game ragnarok online karya gravity (kajian terjemahan dengan pendekatan morfologi). Prasasti: Journal of Linguistics. 2(1), 36-48.
Sudaryanto. (2015). Metode dan aneka teknik analisis bahasa (pengantar penelitian wahana kebudayaan secara linguistis). Yogyakarta: Sanata Dharma University Press
Toury, G. (1995). The Nature and Role of Norms in Translation. Amsterdam-Philadelphia: John Benjamins, 1995, 53-69. Retrieved from https://www.tau.ac.il/~toury/works/GT-Role-Norms.htm. [21 Agustus 2018]
Vinay, J.P. & Darbelnet, J. (1995) Comparative stylistics of french and english: a methodology for translation, translated by J. C. Sager and M. J. Hamel, Amsterdam / Philadelphia: John Benjamins.
Zhou, L. (2016). Neologism in news English. Sino-US English teaching, 13(4):292-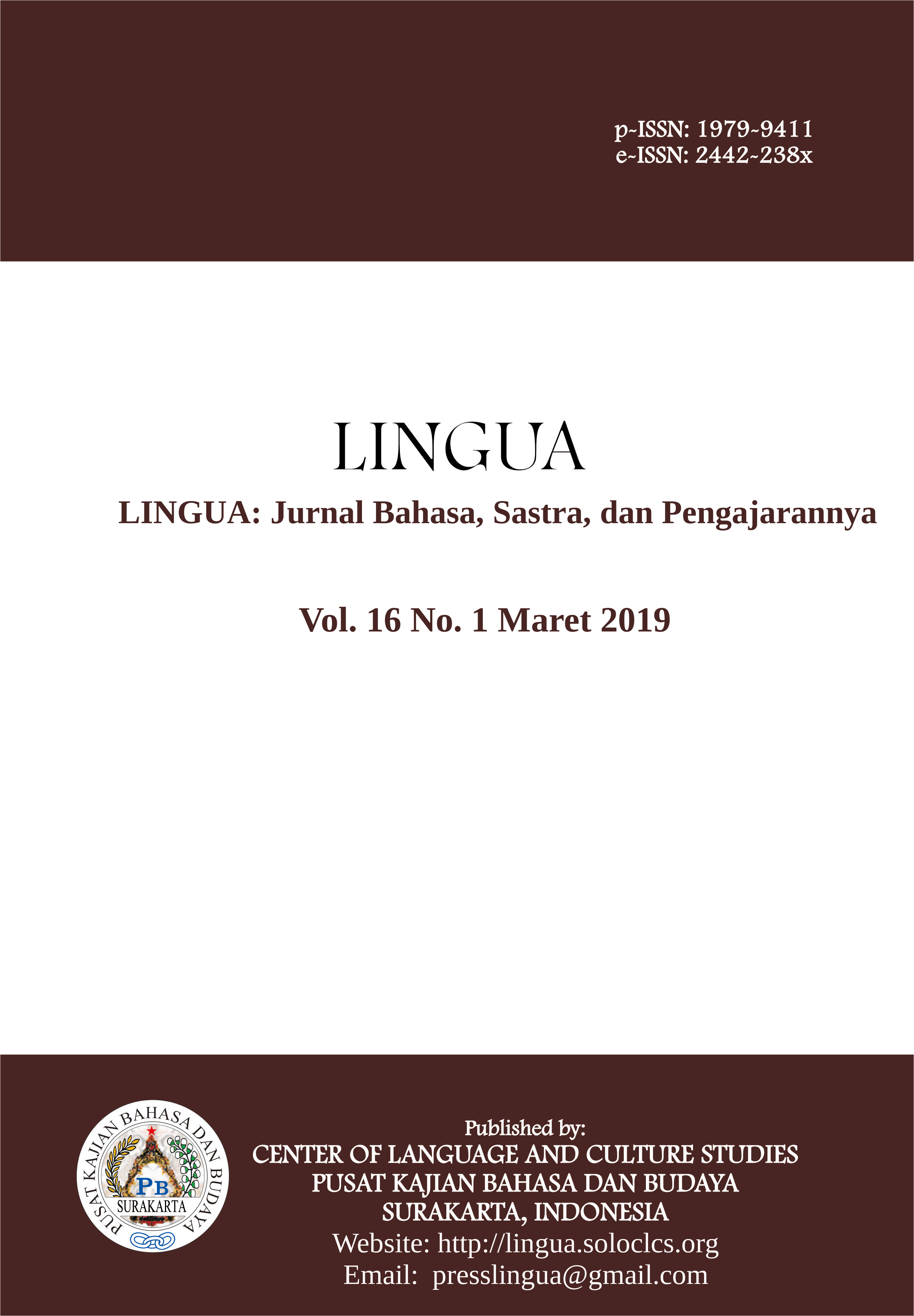 How to Cite
Hardini, F., Setia, E., & Mono, U. (2019). TRANSLATION NORMS OF NEOLOGISM IN SOCIAL MEDIA INTERFACE. LINGUA : Jurnal Bahasa, Sastra, Dan Pengajarannya, 16(1), 15-24. https://doi.org/10.30957/lingua.v16i1.571
Authors who publish with this journal agree to the following terms:
Authors retain copyright and grant the journal right of first publication with the work simultaneously licensed under a Creative Commons Attribution-ShareAlike 4.0 International License that allows others to share the work with an acknowledgement of the work's authorship and initial publication in this journal.
Authors are able to enter into separate, additional contractual arrangements for the non-exclusive distribution of the journal's published version of the work (e.g., post it to an institutional repository or publish it in a book), with an acknowledgement of its initial publication in this journal.
Authors are permitted and encouraged to post their work online (e.g., in institutional repositories or on their website) prior to and during the submission process, as it can lead to productive exchanges, as well as earlier and greater citation of published work (See The Effect of Open Access).