An Analysis of Promiscuity in Eimear Mcbride's: A Girl Is A Half-Formed Thing
Putri Shinta Hasibuan

Universitas Sumatera Utara Jl. Abdul Hakim No.1, Padang Bulan, Kec. Medan Baru, Kota Medan, Sumatera Utara 20222

Parlindungan Purba

Universitas Sumatera Utara Jl. Abdul Hakim No.1, Padang Bulan, Kec. Medan Baru, Kota Medan, Sumatera Utara 20222
Abstract views:
27
,
pdf downloads:
15
Keywords:
promiscuity, causes, impacts
Abstract
This thesis is analyzing promiscuity on the main character. The purpose of this thesis is to find out and understand how it happened, to look for the two causes and impacts of promiscuity that are described in the novel. The main character is the girl who is a victim of sexual violence by her own uncle. As a result of the vile things done by her uncle, She was involved in a deviation, namely promiscuity. She did promiscuity with lots of boys. The behavior of multiple partners in sexual relations without a commitment relationship (promiscuity) is rarely found in women. Because in general, women engage in sexual relations on the basis of love and as an expression of feelings of love towards their partners. When found by individual women with promiscuity behavior, it becomes interesting to look more deeply. The theory used to analyze is a theory by Kartono and Mcleish. The research methods used in this thesis are qualitative methods and library research. The author collects data from the novel and from several sources of articles, books, and journals that have a relationship with this thesis. The results of this thesis are to reveal the truth that promiscuity can occur in the main character and get causes and impacts in their daily life.
Downloads
Download data is not yet available.
References
Creswell, J. W. 2012. Research Design Pendekatan Kualitatif dan Kuantitatif
Mixed; Cetakan ke-2. Yogyakarta: Pustaka Pelajar.

Greydanus and Calles, J. 2007. Suicide in Children and Adolescents.
Primary Care: Clinics in Office Practice.

Kartono and Kartini. 2006. PsikologiWanita 1: Mengenal Gadis Remaja & Wanita
Dewasa. Bandung: Penerbit Mandar Maju.

Kartono and Kartini. 2005. Patologi Sosial 2 Kenakalan Remaja. Jakarta: PT
Raja Grafindo Persada.

Maramis, W. FandMaramis, 2009. Ilmu Kedokteran Jiwa. Surabaya: Airlangga.

McLeish, Paetzold and Rholes. 2018. Theory of Planned Behavior for Promiscuity on
01 August 2019. Retrieved from URL:
https://worldofsamar.com/theory-of-planned-behavior-for-promiscuity

McGraw, J.1990,Abnormal Psychology: Third Edition, N.Y.

Moleong, J. 2010. Metodologi Penelitian Kualitatif. Bandung :PT. Remaja
Rosdakarya Offset.

Muchtar, M., et.al, 2012. Pedoman Penulisan Skripsi. Medan. FIB USU

Pease, Alan and Barbara. 2011. Why Men Don't Listen and Women Can't Read
Maps. Jakarta Selatan: Ufuk Publishing House.

Saani, K, 2017. StudiKasus: Gambaran Promiskuitas pada Individu Perempuan.
Yogyakarta. Universitas Sanata Dharma

Sugiyono. 2008. Kunatitatif Kualitatif dan R&D. Bandung :Alfabeta.
Tellez, S. A. R. 2018. The Embodied Subjectivity of a Half-Formed
Narrator: Sexual Abuse, Language (Un)formation and Melancholic
Girlhood in Eimear McBride's A Girl is a Half-Formed Thing.

Warren, Austin and Rene W. 1995. Theory of literature. New York: Harcourt.

Wikiversity. 2010. Motivation and emotion Book Promiscuity motivation Sexual
motivation and promiscuity.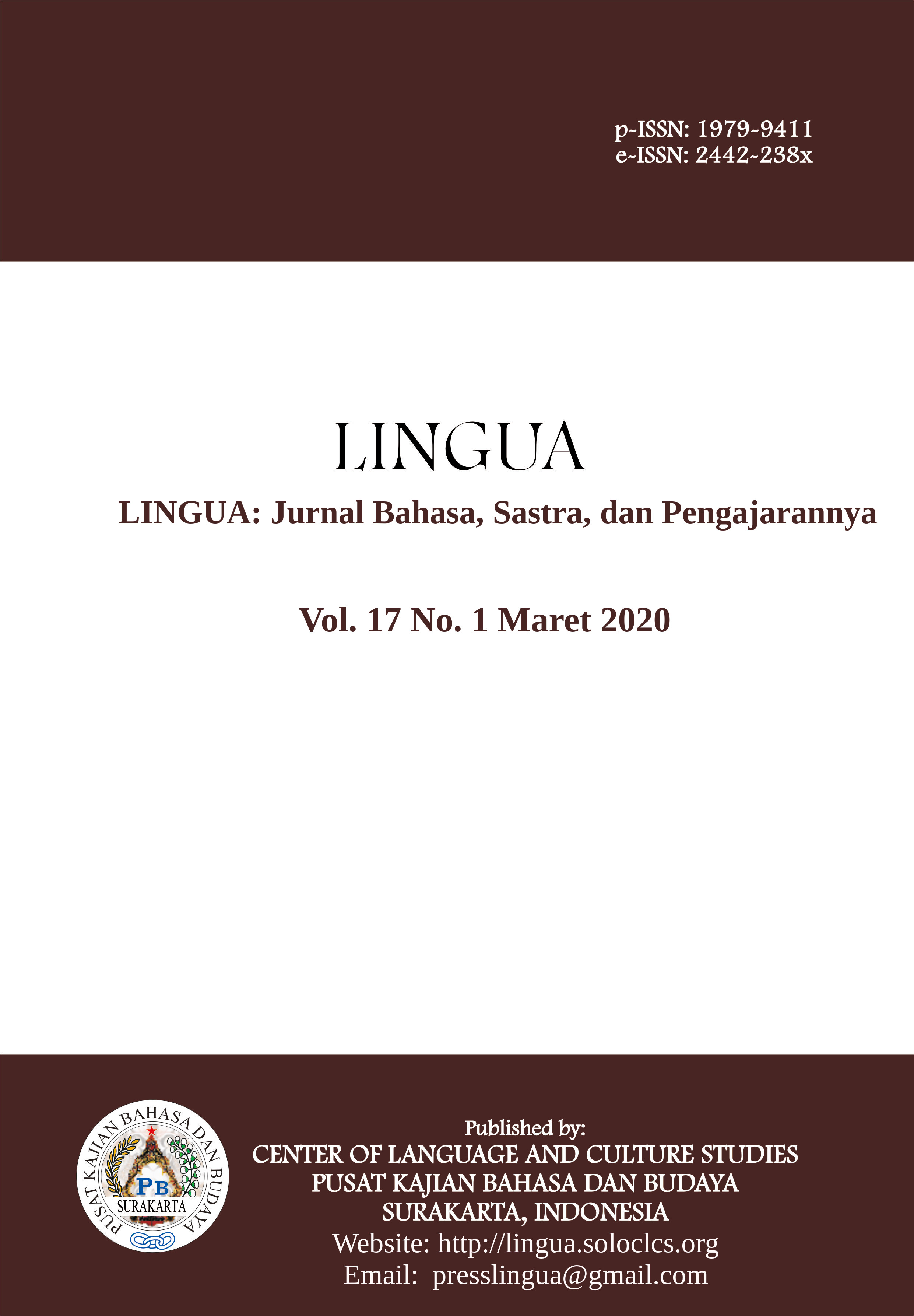 How to Cite
Hasibuan, P. S., & Purba, P. (2020). An Analysis of Promiscuity in Eimear Mcbride's: A Girl Is A Half-Formed Thing. LINGUA : Jurnal Bahasa, Sastra, Dan Pengajarannya, 17(1), 79-92. https://doi.org/10.30957/lingua.v17i1.626
This work is licensed under a Creative Commons Attribution-ShareAlike 4.0 International License.
Authors who publish with this journal agree to the following terms:
Authors retain copyright and grant the journal right of first publication with the work simultaneously licensed under a Creative Commons Attribution-ShareAlike 4.0 International License that allows others to share the work with an acknowledgement of the work's authorship and initial publication in this journal.
Authors are able to enter into separate, additional contractual arrangements for the non-exclusive distribution of the journal's published version of the work (e.g., post it to an institutional repository or publish it in a book), with an acknowledgement of its initial publication in this journal.
Authors are permitted and encouraged to post their work online (e.g., in institutional repositories or on their website) prior to and during the submission process, as it can lead to productive exchanges, as well as earlier and greater citation of published work (See The Effect of Open Access).