KAJIAN ASINONIMITAS AL-KITAB WAL AL-QUR'AN: QIRA'AH MUASHIRAH
Mia Fitriah Elkarimah

Universitas PGRI Indraprasta Jakarta
Abstract views:
479
,
PDF downloads:
581
Keywords:
Syahrur, linguistic approach, asynoymous, syntagmatic, paradigmatic
Abstract
This research  describes the concept of Muhammad Syahrur on the birth of asynonymous theory, the ignorance of synonymous in the Qur'an.  Synonymous in the Qur'an is frequently discussed, but debates appear where Syahrur is in disagreement. This research used qualitative approach and content analysis as the design.  The source of  data was "al-Kitabwal al-Qur'an: Qira'ah Muashirah" by Syahrur. Linguistically, the verses were analyzed using syntagmatic and paradigmatic approach, and the special meanings in the Qur'an were integrated. The study revealed that the different terms in al-Kitab al-Qur'an, al-Dhikr, al-Furqan provide no basis for an argument and  synonymous in the Quran is still debated.  Synonymous is denied by Syahrur, but scholars rejecting the synonymous, only distinguish the properties contained in the words where the meaning remains the same.  Quran can not be understood in the relative terms, as relative and dynamic in space and times.
Downloads
Download data is not yet available.
References
DAFTAR PUSTAKA
Aminuddin. 1988. Semantik; Pengantar Studi Tentang Makna. Bandung. Sinar baru
al-'Askari Abu Hilal. 1973. al-Furuq Fi al-Lughah, Beirut: Dar al-Afak al-Adikah
al-Zuhaili, Wahbah. 1991.Al-Tafsir al-Munir fi al-`Aqidah wa al-Syari`ah wa al- Manhaj.Beirut: Dar al-Fikr al-Mu`ashir
al-Jabiri, M. Abid. 2006. Madkhal Ila Al-Qur'an Al-Karim. Beirut: Markaz Dirasat Al-Wahdah Al-Arabiyyah.
As-Salih, Subhi. 1997. Mabahis Fi Ulum Al-Qur'an, Beirut: Dar Al-'Ilmi.
Az-zarkasyi. 1957. al-Burhan Fi 'Ulum Al-Qur'an, Ttp: Dar Ihya'
Al-Abdullah, Mahmud Bin Mahmud. 2008. al-I`jaz al-bayani Wa al-Tasyri`I wa al-Sabaq al-ilmi Lil-Qur`an, Cet al-Majd li al-Tsaqafah wa al-Ulum
Bertens, K. 2001. Filsafat Barat Kontempore. Pustaka Utama. Jakarta
Budiman, Kris. 1999. Kosa Semiotika, Yogyakarta, LKiS 1999
Baidan, Nashruddin. 2005. Wawasan Baru Ilmu Tafsir, cet 1. Yogyakarta: Pustaka Pelajar,
Chaer, Abdul. 2007. Linguistik Umum. jakarta: Rineka cipta
Chaer,Abdul.2009.Pengantar Semantik Bahasa Indonesia. Jakarta: Rineka Cipta
Culler, Jonathan. 1981. The Pursuit of Signs: Semiotics, Literature, Deconstruction. New York: Cornell University Press.
Christmann, Andreas. 2004. The Form Is Permanent But The Content Moves: The
Qur'anic Text And Its Interpretation Mohammad Syahrour's Al-Kitab Wal-Qur'an, dalam Suha Taji-Farouki (ed.), Modern Muslim Intellectual And The Qur'an. New York: Oxford University press.
Esack, Farid. 2000. Al-Qur'an, Liberalisme, Pluralisme; Membebaskan Yang Tertindas: Authors, terj. Watung A. Budiman. Bandung: Mizan, 2000
Esack, Farid. 2007. Samudera Al-Qur'an. terj Nuril Hidayah. cet 1. Yogyakarta: Diva Press.
Haris, Abdul. 2003 " Pembongkaran Muhammad Syahrur Terhadap Islam Ideologis, Sebuah Pengantar atas ide-ide Pemikiran Islam Kontemporer dalam Al- Kitab Wa Al-Qur'an: Qira'ah Mu'asyirah", Ijtihad, 1(1): 1-12.
Izutsu, Toshihiko. 2003. Relasi Tuhan dan Manusia Pendekatan Semantik Terhadap Al-Qur'an, terj. Aguslim Fahri Husein dkk. Yogyakarta: Tiara Wacana
Jansen, J.J..G 1997. Diskursus Tafsir Al-Quran mudern, terj Hairussalim dan Syarif Hidayatullah. Yogyakarta. Tiara Wacana.
Kurzman, Charles. 2001. Wacana Islam Liberal; Pemikiran Islam Kontemporer Tentang Isu-Isu Global, terj. Bahrul Ulum dan Heri Junaidi. Jakarta. Paramadina
Keraf, Gorys. 2006. Diksi dan Gaya Bahasa. Jakarta: Gramedia.
Mustaqim, Abdul dan Syamsuddin, Sahiron (ed.). 2003 "Mempertimbangkan Metodologi Tafsir Muhammad Syahrur", Hermenutika al-Qur'an, Madzhab Yogya, Yogyakarta: Forstudia Islamika.
Mustaqim, Abdul dan Syamsuddin, Sahiron (ed.). 2003. 2002 "Metode Intertektualitas Muhammad Syahrur Dalam Penafsiran Al-Qur'an". Studi Al-Qur'an Kontemporer: Wacana Baru Berbagai Metodologi Tafsir. Yogyakarta: Tiara Wacana
Pateda, Mansoer. 2001. Semantik leksikal. PT Rineka Cipta: Jakarta
Radiana, Aan dan Munir, Abdul. 1996. al-hikmah; jurnal studi-studi Islam, analisis linguistik dalam penafisran Al-qur'an . bandung, munthahari. vol VII
Syamsuddin, Sahiron. 2002. "Metode Intratekstual Muhammad Syahrur dalam Penafsiran al-Qur'an" dalam A Mustaqim dan Syahiron Syamsuddin (ed.), Studi al-Qur'an Kontemporer, Wacana Baru berbagai Metodologi Tafsir, Yogyakarta: Tiara Wacana.
Syahrur, Muhmmad. 2004. Prinsip dan Dasar Hermeneutika AL-Quran Kontemporer. Yogyakarta: ElSAQ Press
Syahrur, Muhmmad. 2000.Nahw Ushul Jadidah Li al-Fiqh al-Islami: Fiqh al-Mar'ah. Damaskus: al-Ahali li at-Tiba'ah Wa al-Nashr Wa al-Tauzi'. Cet. I
Syahrur, Muhmmad.1992. al-Kitab Wa al-Qur'an; Qira'ah Mu'ashirah, Damaskus ; al-Ahali li at-Tiba'ah Wa al-Nashr Wa al-Tauzi'.
Syahrur, Muhmmad.1994. Dirasat Islamiyah Mu'ashirah Fi al-Daulah Wa al-Mujtama, Damaskus; al-Ahali li at-Tiba'ah Wa al-Nashr Wa al-Tauzi'.
Syahrur, Muhmmad. 2008, Dirasah Islamiyyah: Nahw Ushul Jadidah Li al-Fiqh al-Islami, terjemah Sahiron Syamsuddin, Metodologi Fiqih Islam Kontemporer, eLSAQ Press: Yogyakarta,.
Saussure, de Ferdinand. 1996. Pengantar Linguistik Umum, Penerjemah: Rahayu S. Hidayat: Gadjah Mada University Press. Yogyakarta
Tarigan, Henry Guntur. 1993. Pengajaran semantik: penerbit Angkasa: Bandung
Umar, Mukhtar 1982. Ilmu ad-Dalalah. Kuwait: Maktabah Dar Al-'Urubah
Yaqub, Emil Badi'. Fiqh al-Lughah al-Arabiyah Wa Khasaisuha. Dar ats-saqafah al-islamiyah.
Zenrif, M.F. 2008. Sintesis paradigm Studi Al-Qur'an. UIN. Malang Press.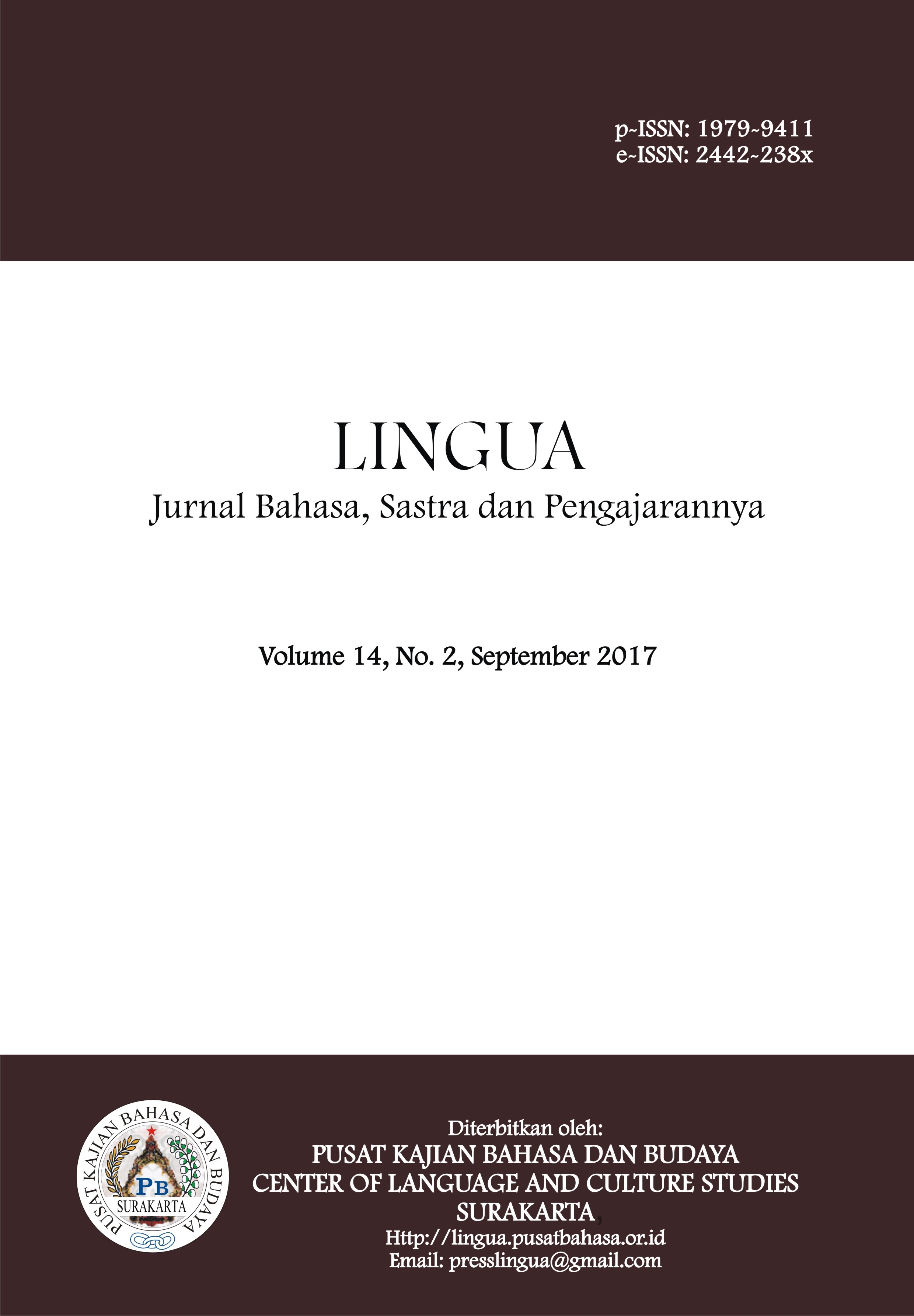 How to Cite
Elkarimah, M. F. (2017). KAJIAN ASINONIMITAS AL-KITAB WAL AL-QUR'AN: QIRA'AH MUASHIRAH. LINGUA : Jurnal Bahasa, Sastra, Dan Pengajarannya, 14(2), 181-194. https://doi.org/10.30957/lingua.v14i2.302
Authors who publish with this journal agree to the following terms:
Authors retain copyright and grant the journal right of first publication with the work simultaneously licensed under a Creative Commons Attribution-ShareAlike 4.0 International License that allows others to share the work with an acknowledgement of the work's authorship and initial publication in this journal.
Authors are able to enter into separate, additional contractual arrangements for the non-exclusive distribution of the journal's published version of the work (e.g., post it to an institutional repository or publish it in a book), with an acknowledgement of its initial publication in this journal.
Authors are permitted and encouraged to post their work online (e.g., in institutional repositories or on their website) prior to and during the submission process, as it can lead to productive exchanges, as well as earlier and greater citation of published work (See The Effect of Open Access).