Nilai Pendidikan, Sosial, Kultural, dan Spiritual dalam Wasiat Renungan Masa Karya Tgkh. Zainuddin Abdul Madjid: Tinjauan Hermeneutika
Abdul Nasip

Unram

Mahyuni Mahyuni

Unram

Nuriadi Nuriadi
Abstract views:
360
,
pdf downloads:
477
Keywords:
testament, character education, social, cultural, spiritual
Abstract
The Testament of Devotional Period is one type of literary work in the form of poetry by TGKH. Zainuddin bin Abdul Madjid, the founder of Nahdlatul Wathan (NW) organization in Lombok. The purpose of this study is to explore character education values in the testament using hermeneutic theory of Hans-George Gadamer. Primary data of this study were values in the text of testatment and the secondary data were results of review of literature, and results of interview. Results show values ​​contained in the testament include: character education, social, cultural, and spiritual, with character education as the dominant value.  Factors that cause the dominance of the value of character education in the testament include: effort to maintain the existence of NW, fostering the attitude of sami'na waata'na to NW  alumni,  a tool to suggest fighting spirit for NW, heirs of the Prophets, and  fostering fanaticism towards NW.
Downloads
Download data is not yet available.
References
Aprilia, Sinta. 2011. Aplikasi Nilai Kultural-Spiritual dalam Kehidupan Masyarakat. Surabaya: Pustaka Airlangga.
Arikunto, Suharsimi. 2013. Prosedur Penelitian: Suatu Pendekatan Praktik. Jakarta: Rineka Cipta.
Emzir. 2010. Metodologi Penelitian Pendidikan: Kuantitatif dan Kualitatif. Jakarta: Raja Grafindo Persada.
Endraswara, Suwardi. 2015. Metodologi Penelitian Sastra: Konsep, Langkah, dan Penerapan. Jogjakarta: CAPS.
Hadi, Sofian. 2003. Kajian Teoretik Hermeneutika Simbolik. Surabaya: Pustaka Airlangga.
Mahsun. 2011. Metode Penelitian Bahasa: Tahapan, Strategi, Metode, dan Tekniknya (edisi revisi 2011). Jakarta: Rajawali Pers.
Moleong, Lexy J. 1997. Metodologi Penelitian Kualitatif. Bandung: Remaja Rosdakarya.
Muhammad. 2014. Metode Penelitian Bahasa. Jakarta: Gramedia Pustaka Utama.
Palmer, Richard. 2003. Hermeneutics, Interpretation Theory in Schleirmacher, Dilthey, Heidegger and Gadamer. Evanstron: Northwestern University Press.
Pradopo, Rachmat Djoko. 2013. Beberapa Teori Sastra, Metode Kritik, dan Penerapannya. Yogyakarta: Hanindita Graha Widya.
Ratna, Nyoman Kutha. 2011. Teori, Metode, dan Tekhnik Penelitian Sastra. Yogyakarta: Pustaka Pelajar.
Ricoeur, Paul. 2014. Teori Interpretasi: Membelah Makna dalam Anatomi Teks. Jogjakarta: IRCiSoD.
Silalahi, Uber. 2012. Metode Penelitian Sosial. Bandung: Refika Aditama.
Sriyanto, Abdullah. 2011. Konsep Nilai dalam Masyarakat Nasional. Jogjakarta: Arwana Press.
Sugiyono. 2016. Metode Penelitian Pendidikan. Bandung: Alfabeta.
Thohri, Muhammad. 2015. Menyusuri Keagungan Cinta Maulana. Mataram: Sanabil Nahdlatul Wathan.
Toha, Suryadarma. 2011. Nilai dan Norma. Jakarta: Rodajaya Publisher.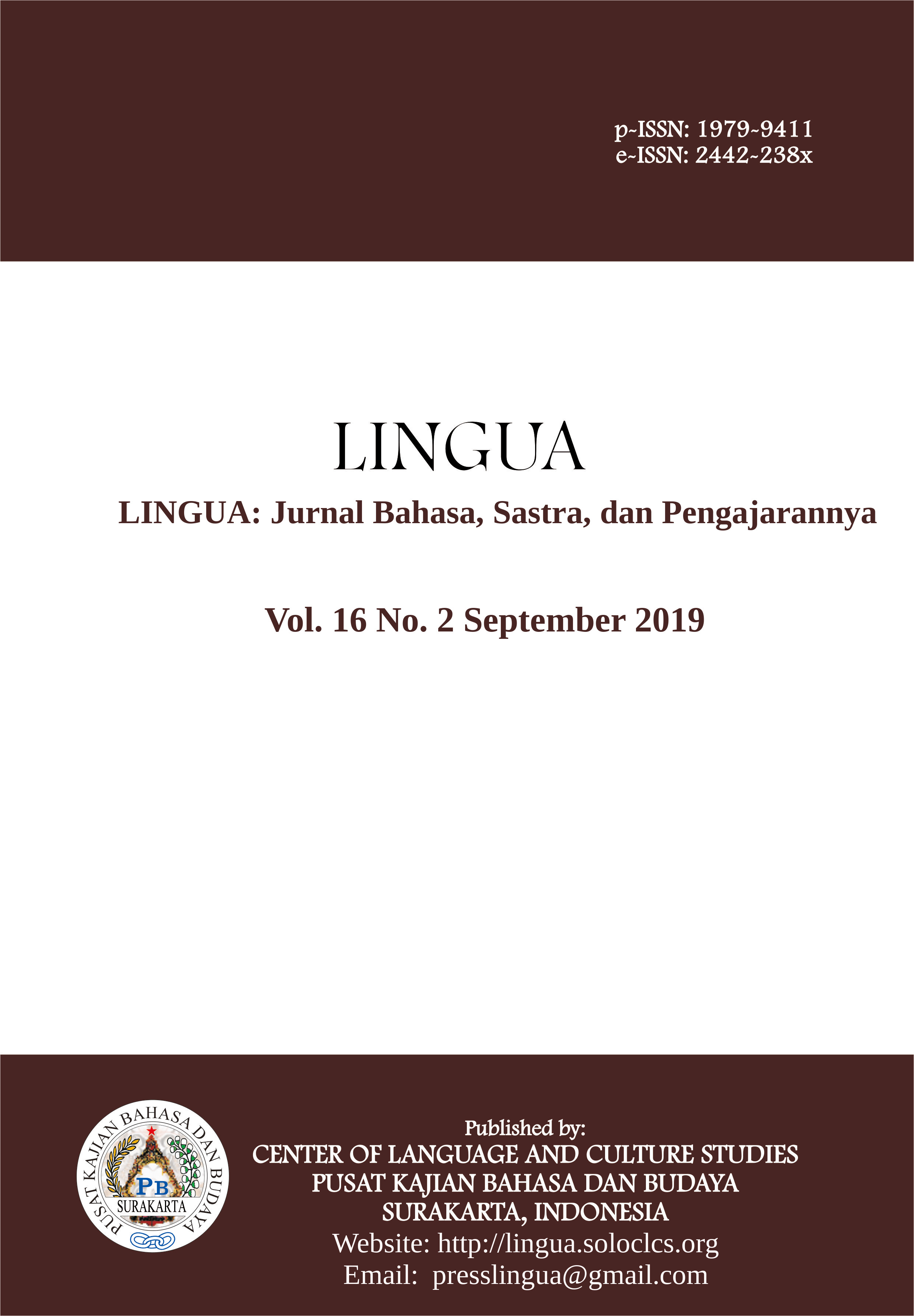 How to Cite
Nasip, A., Mahyuni, M., & Nuriadi, N. (2019). Nilai Pendidikan, Sosial, Kultural, dan Spiritual dalam Wasiat Renungan Masa Karya Tgkh. Zainuddin Abdul Madjid: Tinjauan Hermeneutika. LINGUA : Jurnal Bahasa, Sastra, Dan Pengajarannya, 16(2), 271-284. https://doi.org/10.30957/lingua.v16i2.607
Authors who publish with this journal agree to the following terms:
Authors retain copyright and grant the journal right of first publication with the work simultaneously licensed under a Creative Commons Attribution-ShareAlike 4.0 International License that allows others to share the work with an acknowledgement of the work's authorship and initial publication in this journal.
Authors are able to enter into separate, additional contractual arrangements for the non-exclusive distribution of the journal's published version of the work (e.g., post it to an institutional repository or publish it in a book), with an acknowledgement of its initial publication in this journal.
Authors are permitted and encouraged to post their work online (e.g., in institutional repositories or on their website) prior to and during the submission process, as it can lead to productive exchanges, as well as earlier and greater citation of published work (See The Effect of Open Access).