DISFEMIA TERHADAP PUAN MAHARANI DI TWITTER
Nisa Anggraini Batubara

Universitas Sumatera Utara

Prima Sholihatun

Universitas Sumatera Utara

Raees Narhan

Universitas Sumatera Utara

Gustianingsih

Universitas Sumatera Utara
Abstract views:
25
,
pdf downloads:
14
Keywords:
Disfemia; komentar netizen; twitter
Abstract
Tujuan penelitian ini adalah untuk menganalisis jenis disfemia yang digunakan netizen di twitter terhadap Puan Maharani. Objek penelitian ini adalah bahasa disfemia yang ditujukan oleh netizen kepada Puan Maharani di twitter. Datanya berupa kata, frasa, dan ungkapan yang menunjukkan adanya disfemia pada Puan Maharani. Sumber data berupa komentar para netizen dalam twitter. Teknik pengumpulan data pada penelitian ini adalah dokumentasi. Dokumentasi yang digunakan dalam penelitian ini adalah komentar netizen di twitter. Langkah-langkah yang digunakan untuk menganalisis data dalam penelitian ini adalah dengan cara analisis deskriptif. Penelitian ini berusaha menganalisis penggunaan disfemia yang terdapat dalam komentar para netizen di twitter. Hasil penelitian ini adalah sebagai berikut. Pertama bentuk kebahasaan disfemia pada kolom komentar netizen di twitter ada tiga, yang berupa kata, frasa, dan ungkapan. Kedua, semua jenis disfemia ditemukan pada komentar netizen di twitter terhadap Puan Maharani.
Kata Kunci: Disfemia; komentar netizen; twitter
Downloads
Download data is not yet available.
References
Allan, K., & Burridge, K. (2006). Euphemism and dysphemism: Language used as shield and weapon. Oxford: Oxford University Press.
Aytan, A., Aynur, B., Hilal, P., Aytac, E., & Malahat, A. (2021). Euphemisms and dysphemisms as language means implementing rhetorical strategies in political discourse. Journal of Language and Linguistic Studies, 17(2), 741-754.
Bako, E. N. (2019). Budaya Popular Dan Komunikasi: Bentuk Disfemia Para Netizen Pada Akun Instagram Lambe_Turah. Jurnal Bahasa Indonesia Prima (BIP), 1(2), 56-61.
Creswell, J. W. (2012). Educational research (4th ed.). Boston, MA: Pearson Education, Inc.
Kafi, L. N., & Degaf, A. 2021. Euphemism and dysphemism strategies in Donald Trump's speech at SOTU 2020. International Journal of Humanity Studies, 4(2), 194-207.
Lailiyah, M., & Yustisia, K. K. 2018. Euphemism and dysphemism expression in "The Rainbow Troops" novel by Andrea Hirata. EnJourMe (English Journal of Merdeka): Culture, Language, and Teaching of English, 3(2), 67-74.
Matondang, Z., & Purnanto, D. 2020. A Meaning Component Analysis of Euphemism and Dysphemism in Indonesian Da'wah. International Journal of Linguistics, Literature and Translation, 3(9), 58-65.
Maulana, I., Aziz, Z. A., & Daud, B. (2020). Dysphemism Used in Prohaba Newspaper. English Education Journal, 11(4), 466-481.
Nasution, V. A., & Ayuningtias, N. 2022. A Dysphemism Behind the COVID-19 Phenomenon. KnE Social Sciences, 10-25.
Pecca, A. R., & Setyowati, E. (2021). Analisis Disfemia Dalam Berita Di Tribunjatim. Com Dan Detik. Com. In Prosiding Seminar Nasional Sastra, Lingua, Dan Pembelajarannya (Salinga) (Vol. 1, No. 1, pp. 529-535).
Pratiwi, K., Ridwan, S., & Rahmawati, A. (2016). Disfemia dalam Berita Utama Surat Kabar Pos Kota dan Radar Bogor. Arkhais-Jurnal Ilmu Bahasa dan Sastra Indonesia, 7(1), 47-52.
Rohhayati, F., Basuki, R., & Diani, I. (2020). Kajian Bahasa Disfemia Pada Kolom Komentar Netizen Di Instagram. Wacana: Jurnal Penelitian Bahasa, Sastra dan Pengajaran, 18(2), 143-150.
Sagala, L. H. U. B. (2019). Kajian Eufemisme Dan Disfemisme Pada Komentar Para Netizen Dalamyoutube Berita Kumparan. Com (Edisi Menko Polhukam Wiranto Ditusuk Orang Di Pandeglang). In Seminar Internasional Riksa Bahasa.
Ulum, D. E. L., & Kusmanto, H. (2018). Disfemia pada Komentar Akun Instagram Mimi. Peri. Seminar Nasional Kajian Bahasa, Sastra, dan Pengajarannya (SEMNAS KBSP) V 2018.
Warren, B. (1992). What dysphemism tell us about the interpretation of words. Studia Linguistica, 46(2), 128-172.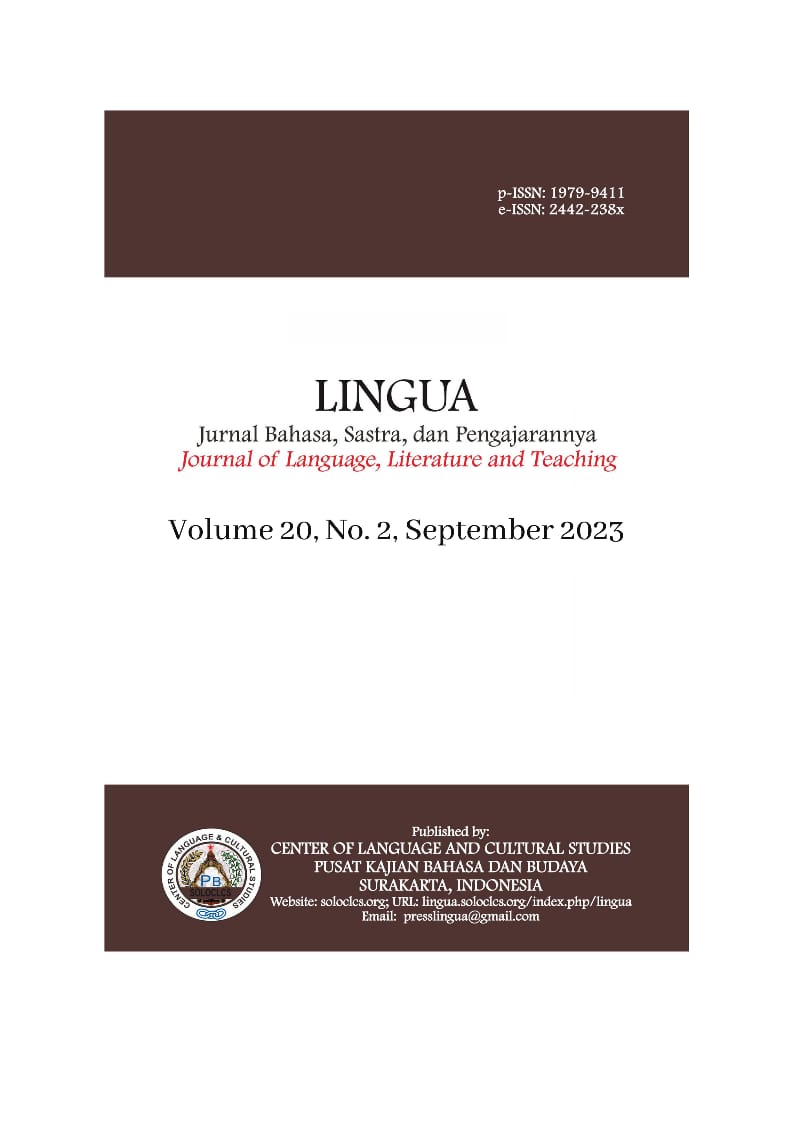 How to Cite
Batubara, N. A., Prima Sholihatun, Raees Narhan, & Gustianingsih. (2023). DISFEMIA TERHADAP PUAN MAHARANI DI TWITTER. LINGUA : Jurnal Bahasa, Sastra, Dan Pengajarannya, 20(2), 288-296. https://doi.org/10.30957/lingua.v20i2.828
Copyright (c) 2023 LINGUA : Jurnal Bahasa, Sastra, dan Pengajarannya
This work is licensed under a Creative Commons Attribution-ShareAlike 4.0 International License.
Authors who publish with this journal agree to the following terms:
Authors retain copyright and grant the journal right of first publication with the work simultaneously licensed under a Creative Commons Attribution-ShareAlike 4.0 International License that allows others to share the work with an acknowledgement of the work's authorship and initial publication in this journal.
Authors are able to enter into separate, additional contractual arrangements for the non-exclusive distribution of the journal's published version of the work (e.g., post it to an institutional repository or publish it in a book), with an acknowledgement of its initial publication in this journal.
Authors are permitted and encouraged to post their work online (e.g., in institutional repositories or on their website) prior to and during the submission process, as it can lead to productive exchanges, as well as earlier and greater citation of published work (See The Effect of Open Access).