FRASA DAN KLAUSA DALAM KATA POLISINTESIS PADA BAHASA TOLAKI
Abstract views:
611
,
PDF downloads:
574
Keywords:
polysynthetic words, phrase, clause, role, category
Abstract
This study
examines the descriptions of phrases and sentences in the polysynthesis words.  Sources of data of this study polyshyntesis words in Tolaki Language.  Data were collected using observation and interview. Data were anlyzed using descriptive qualitative of formal and informal techniques. The study revealed that:  (1) construction of phrases and sentences in the polyshyntesis words, (2) kinds of phrases in the polyshinthesis words, (3) functions, roles, and categories of clauses in the polysunthesis words, and (4) polysinthesis occured due to lapses or changes of mofphology of the Tolaki speakers
Downloads
Download data is not yet available.
References
DAFTAR PUSTAKA
Br. Surbakti, Ernawati. (2012). Tipologi Sintaksis Bahasa Karo. Jurnal dalam Telangkai Bahasa dan Sastra, Januari 2012, 55-73 Tahun ke-6 N0.1. ISSN 1978-8266.
Carnie, Andrew. (2002). Syntax: A Generative Introduction. Cornwall: T.J. International Ltd.
Edwards, Owen. (2012). Grammatical Functions in Tolaki. Australia: The Australian National University. (Mimetograf).
Huang, Yan. (2007). Pragmatics. New York: Oxford University Press.
Keraf, Gorys. (1990). Linguistik Bandingan Tipologis. Jakarta: PT. Gramedia.
Kridalaksana, Harimurti. (1982). Kamus Linguistik. Jakarta: PT. Gramedia.
Matthews, P. H. (1981). Syntax. Avon: The Bath Press.
Parera, J.D. (1991). Historis Komparatif dan Tipologi Struktural. Jakarta: Penerbit Erlangga.
Putrayasa, Ida Bagus. (2014). Analisis Kalimat: Fungsi, Kategori dan Peran. Bandung: PT. Refika Aditama.
Sportiche, Dominique. et.al, (2014). An Introduction to Syntactic Analysis and Theory. West Sussex: Wiley Blackwell.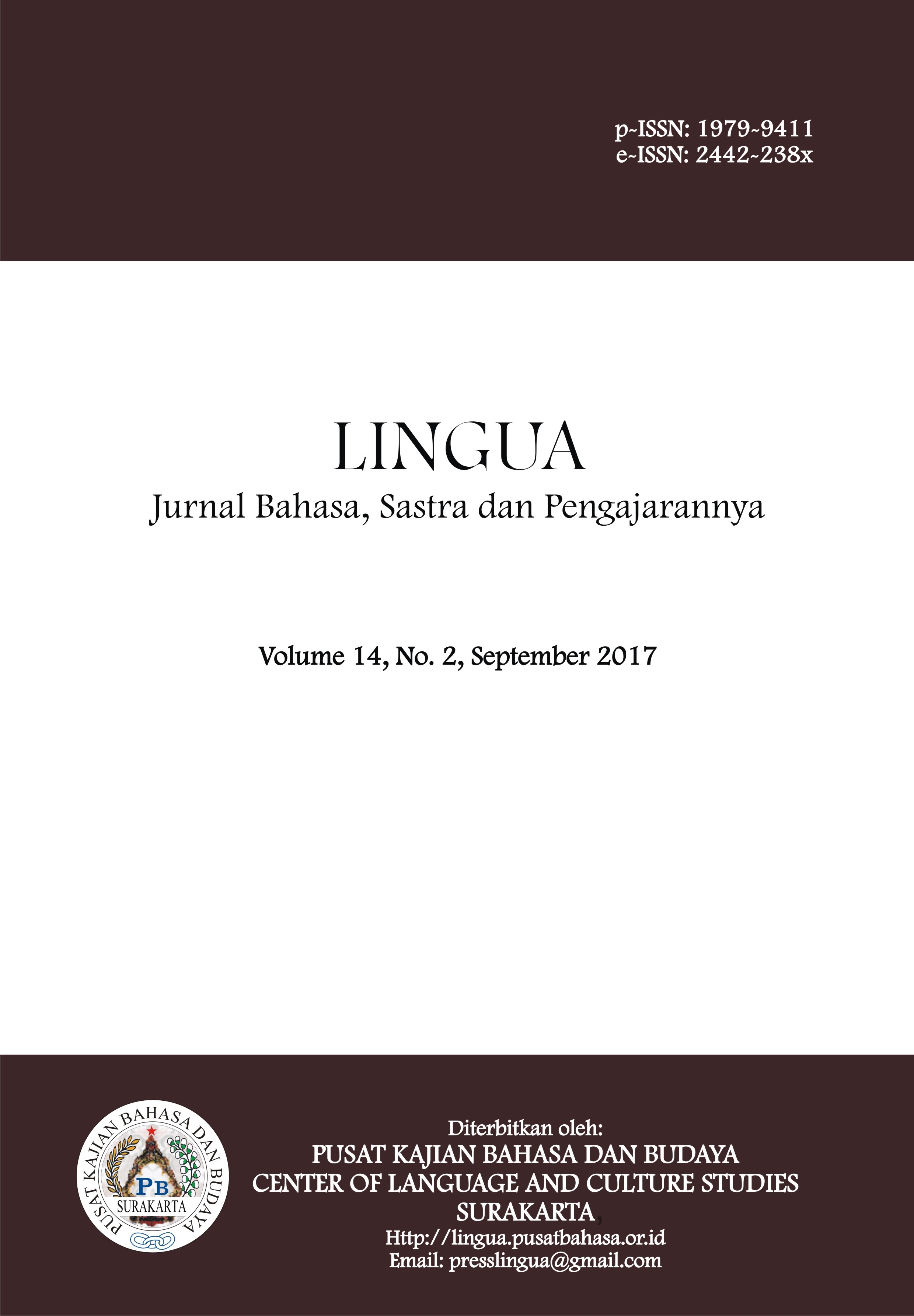 How to Cite
Pehala, I. A. (2017). FRASA DAN KLAUSA DALAM KATA POLISINTESIS PADA BAHASA TOLAKI. LINGUA : Jurnal Bahasa, Sastra, Dan Pengajarannya, 14(2), 127-140. https://doi.org/10.30957/lingua.v14i2.283
Authors who publish with this journal agree to the following terms:
Authors retain copyright and grant the journal right of first publication with the work simultaneously licensed under a Creative Commons Attribution-ShareAlike 4.0 International License that allows others to share the work with an acknowledgement of the work's authorship and initial publication in this journal.
Authors are able to enter into separate, additional contractual arrangements for the non-exclusive distribution of the journal's published version of the work (e.g., post it to an institutional repository or publish it in a book), with an acknowledgement of its initial publication in this journal.
Authors are permitted and encouraged to post their work online (e.g., in institutional repositories or on their website) prior to and during the submission process, as it can lead to productive exchanges, as well as earlier and greater citation of published work (See The Effect of Open Access).