KAJIAN STILISTIKA PADA TAJUK RENCANA SURAT KABAR HARIAN UMUM HALUAN
Abstract views:
529
,
PDF downloads:
314
Keywords:
Editorial, Style, Newspapers
Abstract
This qualitative study analyzes style used in the Haluan newspaper, emphasizing the language used in its editorials.  The language styles were focused on the word choice, figurative language, imagery, and the role of the style.  The data in this study were a lingual unit in the form of words, phrases, or clauses. The data sources was Editorial posted on June 6th, 2016. The results of this study showed that the use of connotative, general, special senses, and a scientific word was prominent. The figurative language, such as climax, anti-climax, repetition, redundancy, enumeration, ellipsis, polidenton, paradoxically, correction, and personification was dominant. The images contained in this Editorial included visual, motion and auditory imageries. Spiritual and social values play a role in the Haluan Daily News Editorial.
Downloads
Download data is not yet available.
References
DAFTAR PUSTAKA
Alwi, Hasan (Ed). 2001. Bahan Penyuluhan Bahasa Indonesia: Paragraf. Jakarta: Depdiknas.
Badudu, J.S, 1975. Sari Kesusastraan Indonesia. Bandung: CV Pustaka Prima
Keraf, groys. 2008. Diksi dan Gaya Bahasa. Jakarta: PT. Gramedia Pustaka Utama
Keraf, Gorys. 1983. Komposisi. Flores: Nusa Indah.
Ratna, Nyoman Kutha.2008. Stilistika Kajian Puitika Bahasa, Sastra dan Budaya. Yogyakarta: Pustaka Pelajar
Moeliono, M. Anton. 1989. Kembara Bahasa: Kumpulan Karangan Tersebar. Jakarta: Gramedia.
Nurgiantoro, Burhan.2014. Stilistika. Yogyakarta: Gadjah Mada University Press
Pusat Pembinaan dan Pengembangan Bahasa. 2007. Pedoman Umum Ejaan Bahasa Indonesia yang Disempurnakan. Tera, Yogyakarta.
Soediro, Satoto. 2012.Stilistika. Yogyakarta: Penertbit Ombak
Tarigan, Hendry Guntur. 1985. Pengajaran Bahasa. Bandung: Angkasa.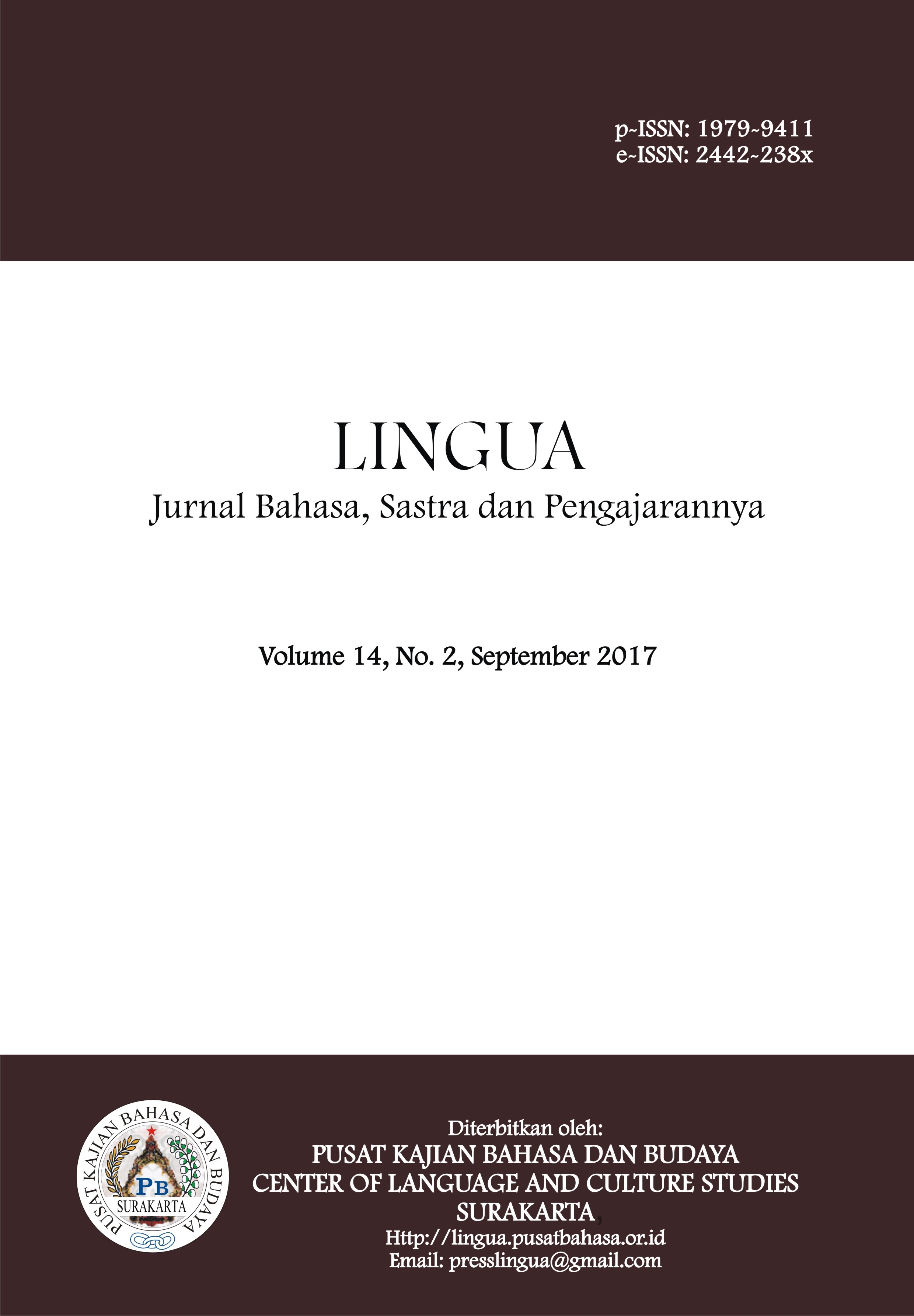 How to Cite
Syah, N. A. (2017). KAJIAN STILISTIKA PADA TAJUK RENCANA SURAT KABAR HARIAN UMUM HALUAN. LINGUA : Jurnal Bahasa, Sastra, Dan Pengajarannya, 14(2), 243-258. https://doi.org/10.30957/lingua.v14i2.285
Authors who publish with this journal agree to the following terms:
Authors retain copyright and grant the journal right of first publication with the work simultaneously licensed under a Creative Commons Attribution-ShareAlike 4.0 International License that allows others to share the work with an acknowledgement of the work's authorship and initial publication in this journal.
Authors are able to enter into separate, additional contractual arrangements for the non-exclusive distribution of the journal's published version of the work (e.g., post it to an institutional repository or publish it in a book), with an acknowledgement of its initial publication in this journal.
Authors are permitted and encouraged to post their work online (e.g., in institutional repositories or on their website) prior to and during the submission process, as it can lead to productive exchanges, as well as earlier and greater citation of published work (See The Effect of Open Access).