NILAI-NILAI MANTRA BERCOCOK TANAM DI DESA CAMPA KECAMATAN MADAPANGGA KABUPATEN BIMA
Irwansyah Irwansyah

Universitas Mataram

Arifudin Arifudin

Universitas Mataram

Kamaludin Yusran

Universitas Mataram
Abstract views:
220
,
PDF downloads:
662
Keywords:
mantra, Islamic values, trust, faith, moral.
Abstract
 This study explores the nature of mantra for the rice breeding in Campa Village, Madapangga District the regent of Bima.  As the indigenous people belive on the aesthetical and spiritual of the mantra, this study tries to explore how society especially the villagers who mostly are farmers perceive values in the mantra. This syudy used ethnograpy and approached the data analysis using qualitative methods.  Five informants having authority in the mantra were interviewed and harvesting rice was used as research setting.  Observation, interview and document analysis were the sources of data in this research.  This study reveals that aqidah (God trust) values are the most values people believe as the total renderness to Allah as the absolute truth.  Reying on Allah wish, people involve activities of plantation rice for success. The second value is syariah (law)  from where people rule and apply their social and daily life activities.  The third value is moral (akhlak) to maintain their surrounding in peace, safe and sustainable.
Downloads
Download data is not yet available.
References
Al-Atsari, Abdullah bin Abdil Hamid. 2005. Panduan Aqidah Lengkap. Bogor: Pustaka Ibnu Katsir
Arikunto, Suharsini. 2010.Prosedur Penelitian Suatu Pendekatan Praktik. Jakarta: Rineka Cipta.
Ancok, Djamaludin & Nasbori, Fuad. 2005. Psikologi Islami. Yogyakarta: Pustaka Pelajar.
Danangdjaja, James. 2002. Folklor Indonesia. Jakarta: Grafiti
Delvayanti.Susi 2012.Analisis Mantra Pada Upacara Perkawinan Adat Masyarakat Melayu Di Desa Terbangiang Kecematan Banggar Petalangan: UIR.
Depdikdas.2005. Kamus Besar Bahasa Indonesia. Edisi Ketiga. Jakarta: Balai Pustaka.
Dwi Santi, Purma dkk. 2013. Nilai-Nilai Religius Dalam Syair Selawat Dulang Di Kelurahan Koto Pulai Kecamatan Kota Tangah Kota Padang. (Jurnal) Pendidikan Bahasa dan Sastra Indonesia, Vol. 1 No. 2 Maret 2013; Seri F 399-476
Endraswara, Suwardi. 2013. Folklor Nusantara: Hakikat, Bentuk, dan Fungsi. Yogyakarta: Ombak
Endraswara, Suwardi. 2009. Metodologi Penelitian Folklor. Konsep, Teori, dan Aplikasi. Yogyakarta: Media Puastaka
Effendi dan Sabhan. 2007. Sastra Daerah. Banjarmasin: PBS FKIP Unifersitas Lambung Mangkurat
Farys, Zean (online). (http://zeanfarys.blogspot.co.id/2012/11/pengertian-dan-macam-macan-mantra.html). Pengertian Dan Macam-Macan Mantra. Di akses sabtu 23 Januari 2016.
Fathoni, Miftah Ahmad. 2001. Pengantar Study Islam. Semarang: Percetakan Gunung Jadi.
Fuadi, Anwar dkk. 2008. Pendidikan Agama Islam di Perguruan Tinggi Umum. Padang: UNP Press
Hutomo, Suripan Sadi. 1991. Mutiara yang Terlupakan. Surabaya: HISKI Komisariat Jatim.
Jalil, Abdul dan Rahman Elmustiun. 2001. Puisi Mantra. Pekanbaru: Unri Pres.
Moleong. J. Lexy. 2006. Metodologi Penelitian Kualitatif. Bandung: Remaja Rosdakarya.
Nurlela.1999. Pendidikan Agama Islam. Padang: Universitas Negeri Padang.
Nasrul H. S dkk.2010. Pendidikan Agama Islam. Padang: UNP Press.
Narbuka, Cholid dan Abu Ahmadi. 2002. Metodologi Penelitian. Jakarta: Bumi Aksara.
Pudentia, MPSS (Ed). (2008). Metodologi Kajian Sastra Lisan. Jakarta: Asosiasi Tradisi Lisan.
Riduwan, 2005.Belajar Mudah Penelitian Untuk Guru-Karyawan Dan Peneliti Pemula.Bandung: Alfabeta.
Rakem. 2008. Mantra Bercocok Tanam Padi Sawah di Desa Leuweunggede (Analisis Struktur, Konteks Penuturan, Proses Penciptaan, dan Fungsi). Bandung: Universitas Pendidikan Indonesia (Prodi Bahasa dan Sastra Indonesia FPBS UPI)
Siswantoro. 2010. Metode Penelitian Sastra. Yogyakarta: Pustaka Pelajar
Suyasa, M. 2004. Teori Sastra. Mataram: Universitas Muhammadiyah Mataram.
Sugiyono. 2008. Metode Penelitian Pendidikan Pendekatan Kuantitatif, Kualitatif dan R&D. Bandung: Alfabeta.
Sugiyono. 2012. Metode Penelitian Pendidikan Pendekatan Kuantitatif, Kualitatif, R&D. Bandung: Alfabeta.
Subagyo, Joko. 2004. Metodologi Penelitian Dalam Teori Dan Praktek. Jakarta: Rineka Cipta.
Sukmadinata, Nana Syaodi. 2008. Metode Penelitian Pendidikan. Bandung: Remaja Rosdakarya.
Suratiyah, K. 2006. Ilmu Usahatani. Jakarta : Penebar Swadaya.
Tranggalek,Ipul. 2013. Nilai Agama. (Online). (Error! Hyperlink reference not valid.).Diakses pada tanggal 22 Agustus 2015.
Yadnya, Ida Bagus Putra. 1984. "Folklor Esetorik Dan Eksentorik" (Jurnal) Widya Pustaka, Th II No 1 Agustus. Dempasar: FS Udayana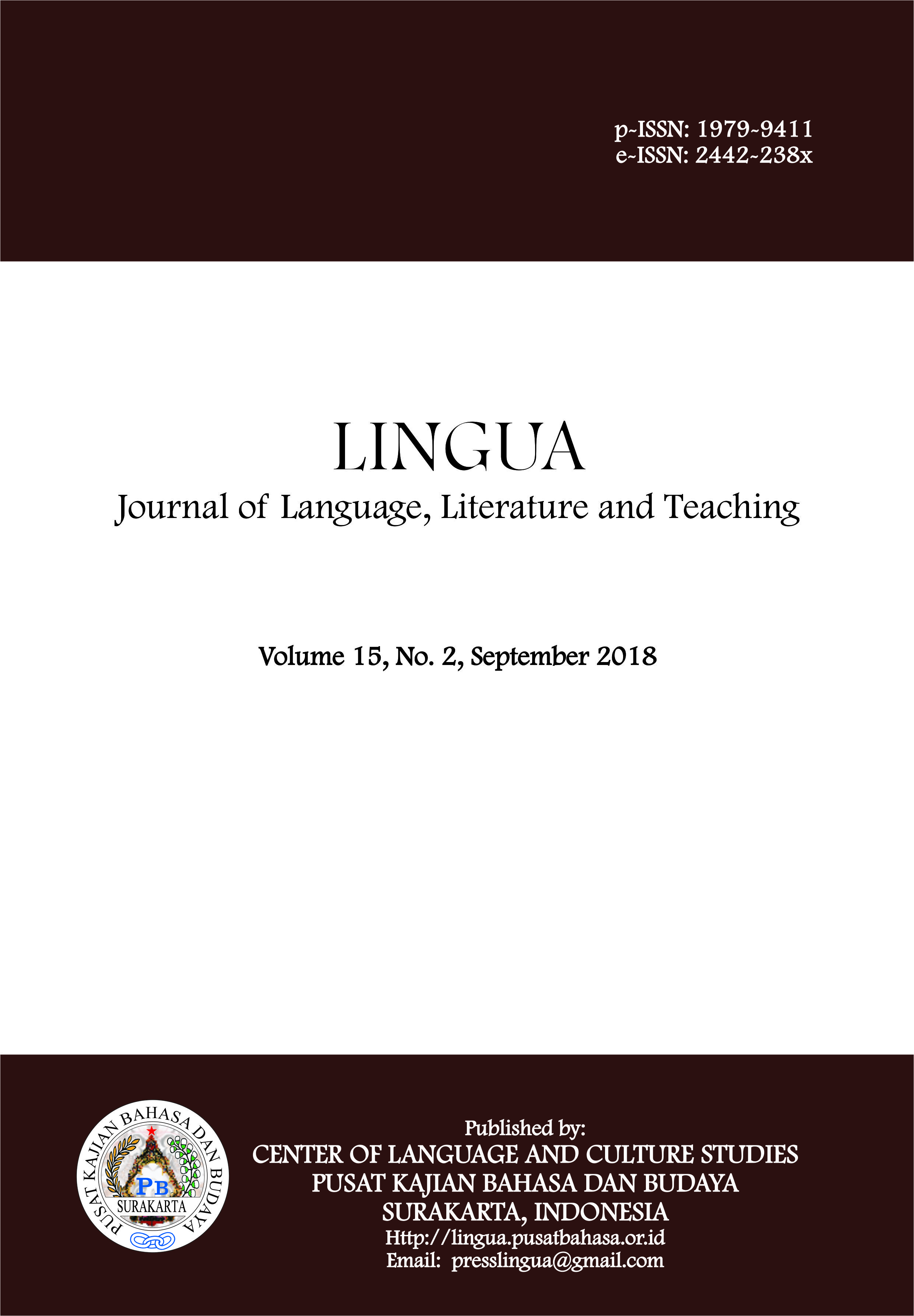 How to Cite
Irwansyah, I., Arifudin, A., & Yusran, K. (2018). NILAI-NILAI MANTRA BERCOCOK TANAM DI DESA CAMPA KECAMATAN MADAPANGGA KABUPATEN BIMA. LINGUA : Jurnal Bahasa, Sastra, Dan Pengajarannya, 15(2), 175-186. https://doi.org/10.30957/lingua.v15i2.492
Authors who publish with this journal agree to the following terms:
Authors retain copyright and grant the journal right of first publication with the work simultaneously licensed under a Creative Commons Attribution-ShareAlike 4.0 International License that allows others to share the work with an acknowledgement of the work's authorship and initial publication in this journal.
Authors are able to enter into separate, additional contractual arrangements for the non-exclusive distribution of the journal's published version of the work (e.g., post it to an institutional repository or publish it in a book), with an acknowledgement of its initial publication in this journal.
Authors are permitted and encouraged to post their work online (e.g., in institutional repositories or on their website) prior to and during the submission process, as it can lead to productive exchanges, as well as earlier and greater citation of published work (See The Effect of Open Access).