Titiluri Tegger: Aktualisasi Tradisi, Refleksi Jati Diri dan Strategi Konservasi
Dina Fitria Hasanah

Program Studi Pendidikan Bahasa dan Sastra Indonesia JPB FIB UB

Sony Sukmawan

Program Studi Pendidikan Bahasa dan Sastra Indonesia JPB FIB UB
Abstract views:
640
,
pdf downloads:
510
Keywords:
titiluri, tradition, tengger ancestors, cultural conservation.
Abstract
The Tengger community coexists with cultural diversity. Titiluri presents to behold in maintaining cultural wealth. Focusing on what the ancestors have done, titiluri is a bridge in reducing the goodness that has existed since time immemorial. This study used a qualitative approach to the design of ethnography to describe titiluri role in maintaining society's culture Tengger. Through ethnographic design, a holistic description of folkloristic expression is embodied in expressions, speeches, symbolic behaviors that contain the philosophy of titiluri. Data were collected using observation and interviews. As a result, Titiluri is present in every aspect of the Tengger community.  As a form of actualization of tradition, the titluri is shown to take place various traditional ceremonies until now as has been done by the ancestors. Besides, titiluri is present in the form of the Tengger community's identity, with inherent self-character, occupation, and dress characteristics. Titluri has the role of conserving the Tengger culture and becomes a principle in maintaining the nobility built by the ancestors so that it can save from the strong exposure of modernization.
Downloads
Download data is not yet available.
References
Adab, Gugus dkk. 2013. Bahagiakah Kalau Manut: Studi Kepatuhan pada Masyarakat Jawa. Jurnal: Universitas Muhammadiyah Surakarta.
Arliman, Laurensius. 2018. Hukum Adat Di Indonesia Dalam Pandangan Para Ahli Dan Konsep Pemberlakuannya di Indonesia. Jurnal Selat. Vol. 5, No. 2, Halaman 178-190. https://doi.org/10.31629/selat.v5i2.320.
Effendi, Nursyiwarwan. 2015. Pemahaman dan pembentukan Karakter Masyarakat : Realitas dan Pandangan Antropologi. Tingkap: Jurnal Ilmiah Ilmu-Ilmu Sosial Budaya & Ekonomi. 11(2), 175-185. DOI: - . http://ejournal.unp.ac.id/index.php/tingkap/article/view/6204/4820 .
Endraswara, Suwardi. 2006 Metodologi Penelitian Kebudayaan.Yogyakarta: Gadjah Mada University Press.
Febriani, R, P, Caesarilla Wahyu, dan Manda, MS. 2018. Slametan Tengger sebagai Mekanisme dalam Menjaga Tradisi dan Membangun Integrasi.Dalam Prosiding Industrial Research Workshop and National Seminar. 9, 784-789. DOI: https://doi.org/10.35313/irwns.v9i0.1150.
Irawan, Wawan; Mahyudi, Johan & Sukri, Muhammad. 2018.Unsur-Unsur Kebudayaan dalam TeksNggahi Dana pada Masyarakat Dompu: Suatu Pendekatan Arketipel Pragmatik. Lingua, 15(2): 131-146.DOI: 10.30957/lingua.v15i2.484.
Moleong, L. R. 2010. Metode Penelitian Kualitatif. Bandung : Remaja Rosda Karya.
Nahak, Hildigardis M. I. 2019. Upaya Melestarikan Budaya Indonesia Di Era Globalisasi. Online. Jurnal Sosiologi Nusantara.5 (1), 195-176.DOI ://doi.org/10.33369/jsn.5.1.65-76.
Rachman, Maman. 2012. Konservasi Nilai dan Warisan Budaya.Indonesian Journal of Conservation. 1 (1), 30-39. DOI : - . https://journal.unnes.ac.id/nju/index.php/ijc/article/view/2062 .
Ranjabar. Jacobus, 2006, Sistem Sosial Budaya Indonesia, Suatu Pengatar, Bandung: Ghalia Indonesia.
Sarwono, S.W. dan Meinarno, E.A. 2009.Psikologi sosial. Jakarta: Salemba Humanika.
Sriwardhani, T. 2007. Aspek Ritual Dan Maknanya Dalam Peringatan Kasada Pada Masyarakat Tengger Jawa Timur. Jurnal Daring. http://www.academia.edu/download/51504479/Makna_Upacra_Kasada.pdf.
Sudikan, Setya Yuwana. 2001. Metode Penelitian Kebudayaan. Surabaya: Citra wacana.
Sultana, Rusdiawan dan Gunayasa, Ida Bagus Kade. 2019. Fungsi Cerita Rakyatsabuk Bidadari dalam Masyarakat Suku Sasak.Lingua.16 (1), 109-112. DOI: 10.30957/lingua.v16i1.578.
Sukmawan, Sony dkk. 2020. Dimensi Ekologi Folklor Unan-Unan Tengger. Jurnal Ilmiah Edukasi & Sosial. 11(1), 60-66. DOI: - . https://jiesjournal.com/index.php/jies/article/view/224 .
Sutarto, Ayu. 2006. Sekilas Tentang Masyarakat Tengger. Makalah, Disajikan pada acara Pembekalan Jelajah Budaya 2006 yang diselenggarakan oleh Balai Kajian Sejarah dan Nilai Tradisional Yogyakarta, 2004.
Warsaa, Yogi Widya Saka. 2019. Visualisasi Upacara Tawur Agung Kesanga dalam Film Dokumenter "Di Balik Awan Tengger.Jurnal Penciptaan dan Pengkajian Seni. 4(1), 68-83. DOI: - . http://journal.isi.ac.id/index.php/invensi/article/view/2671 .
Yunus, Rasid. 2013. Transformasi Nilai-Nilai Budaya Lokal Sebagai Upaya Pembangunan Karakter Bangsa (Penelitian Studi Kasus Budaya Huyula Di Kota Gorontalo). Tesis: Universitas Pendidikan Indonesia.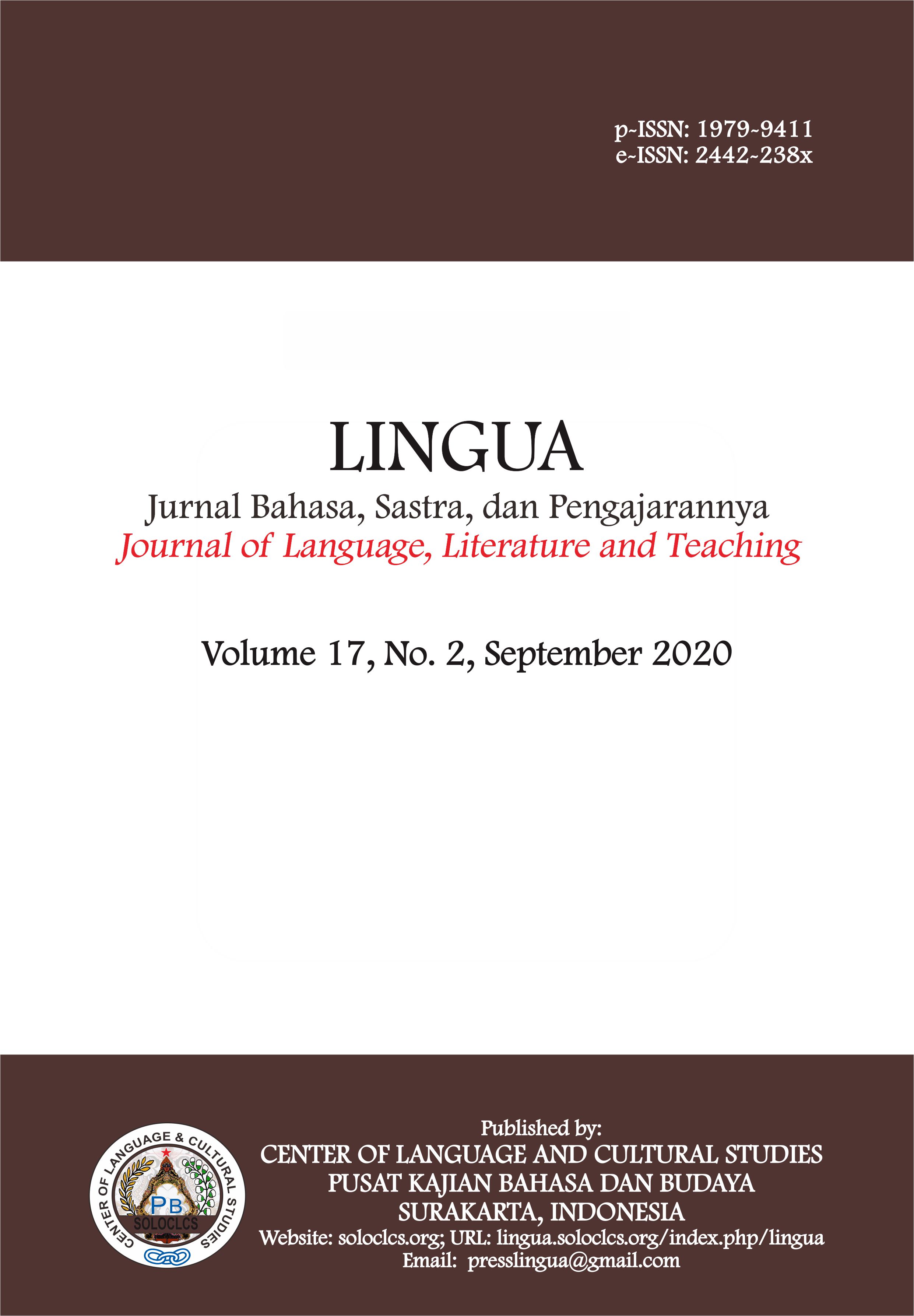 How to Cite
Hasanah, D. F., & Sukmawan, S. (2020). Titiluri Tegger: Aktualisasi Tradisi, Refleksi Jati Diri dan Strategi Konservasi. LINGUA : Jurnal Bahasa, Sastra, Dan Pengajarannya, 17(2), 157-168. https://doi.org/10.30957/lingua.v17i2.643
This work is licensed under a Creative Commons Attribution-ShareAlike 4.0 International License.
Authors who publish with this journal agree to the following terms:
Authors retain copyright and grant the journal right of first publication with the work simultaneously licensed under a Creative Commons Attribution-ShareAlike 4.0 International License that allows others to share the work with an acknowledgement of the work's authorship and initial publication in this journal.
Authors are able to enter into separate, additional contractual arrangements for the non-exclusive distribution of the journal's published version of the work (e.g., post it to an institutional repository or publish it in a book), with an acknowledgement of its initial publication in this journal.
Authors are permitted and encouraged to post their work online (e.g., in institutional repositories or on their website) prior to and during the submission process, as it can lead to productive exchanges, as well as earlier and greater citation of published work (See The Effect of Open Access).