Penamaan Diri Masyarakat Bima Sebagai Sapaan Hormat Kepada Orang yang Dituakan: Kajian Fonologis dan Kontribusinya dengan Pengajaran di SMP
Mutlak Mutlak

Unram

Arifuddin Arifuddin

Unram

Kamaluddin Yusra

Unram
Abstract views:
215
,
pdf downloads:
513
Keywords:
self-naming, honor greetings, address, politeness.
Abstract
The study addresses honorific greeting delivered by Bima community using Donggo dialect to greet others.  Specifically, the honorific address is used to greet elders using specific names that the local culturally indicates high respocet and honor.  This study used qualitative approach and rooted on the sociolinguistics as the foundation of the understanding of the socio-cultural perspectives.  The site of the study was  Mbawa village, Donggo ditrict, Bima Regency. A number of local community consisting of 50 adult men and 50 adult women were observed as the informants of the study.   Data were collected using direct observation and interview.  Results show that Bima community perceive greeting is socially embedded in the culture to raise honor to others, elders, mates and the younger.  The culture system in the Bima tradition is using modified self-naming to put respect and honor.  The system of  honorific address socially expresses politeness and religious values that root from the Islamic teaching.  As the address system embeds cultural values that in sociolinguistic refers to politeness this study adversely contributes teaching language for secondary school students, implying that self-naming to express honorific address is contributable to school curriculum.
Downloads
Download data is not yet available.
References
Chaer, Abdul & Agustina Leoni. 2014. Sosiolinguistik. Jakarta: PT. Rineka Cipta.
Chaer, Abdul & Agustina Leoni. 2007. Linguistik Umum. Jakarta: Rineka Cipta.
Chaer, Abdul & Agustina Leoni.2009. Fonologi Bahasa Indonesia. Jakarta: Rineka Cipta.
Chaer, Abdul & Agustina Leoni. 2015. Psikolinguistik. Jakarta: PT. Rineka Cipta.
Departemen Pendidikan Nasional. 2008. Kamus Besar Pusat Bahasa edisi keempat.
Jakarta: PT Gramedia Pustaka Utama.
Emzir. 2010. Metodologi Penelitian Pendidikan Kuantitatif dan Kualitatif. Jakarta:
Rajawali Press.
Erwin, dkk. 2013. Penggunaan Bahasa Mbojo di Lingkungan Masyarakat Bima: Sebuah Kajian Variasi Bahasa. http://media. Neliti. Com//20685. 18 Desember 2018.
Indah, Novianti Marina. 2017. Penggunaan Pelesetan Nama Panggilan dalam Masyarakat Sasak dan Relevansinya dengan Pembelajaran di SMA. Mataram: Universitas Mataram.
Jafar, Syamsinah. 2002. Sistem Sapaan Pronomina Persona Bahasa Bima: Kajian Makna Penghormatan dan Solidaritas. Fakultas Keguruan dan Ilmu Pendidikan Universitas Mataram.
Kridalaksan, Harimukti. 2010. Pembentukan kata dalam Bahasa Indonesia. Jakarta: PT Gramedia.
Kridalaksan, Harimukti. 1982. Fungsi Bahasa dan Sikap Bahasa. Flores: Nusa Indah.
Mahsun. 2007. Metode Penelitian Bahasa: Tahapan Strategi, Metode dan Tekniknya. Jakarta: PT.Grafindo.
Mahsun. .2010. Pembentukan kata dalam Bahasa Indonesia. Jakarta: PT.Grafindo.
Mahsun. .2017. Metode Penelitian Bahasa. Depok: PT Rajagrafindo Persada.
Marsono. 2008. Fonetik. Yogyakarta: Gajah Mada University Press.
Muslim, Nurcholis. dkk. 2015. Kamus Mbojo Indonesia. Mataram: Kantor Bahasa Pendidikan dan Kebudayaan. Propinsi NTB. Badan Pengembangan dan Pembinaan Bahasa Kementrian
Moleong, lexi J. 2007. Metodologi Penelitian Kualitatif. Bandung: PT. Remaja
Rosdakarya.
Nurmawati. 2012. Plesetan Nama Panggilan dalam Bahasa Sasak. Universitas
Mataram.
Nugraheni, Yestisia Krisinta 2008. The Study of Word Play (Pelesetan) in CAPEK (Catatan Pelesetan Pelik) Column. Semarang: Universitas Diponegoro.
Nursyahidah. 2018. Representasi Identitas Budaya dalam Etika Berbahasa (Studi Kasus Masyarakat Bima). http://www.geogle. Com/search. 18 Desember 2018.
Rahmania, Annisa. 2009. Kata Sapaan dalam Masyarakat Baduy. Depok: Universitas
Indonesia.
Rusbiyantoro, Wenni. 2011. Penggunaan Kata Sapaan dalam Bahasa Melayu Kutai.
Parole Vol. 2 no. 1 April 2011.
Simajuntak, Mangantar. 1990. Teori-Teori Pemerolehan Fonologi. Jakarta: Gaya
Media Pratama.
Tahir Alwi, Muhammad. 2003. Kamus Bima Indonesia Inggris. Bima: Kantor Bahasa
Propinsi NTB.
Thomas, Linda dan Wareing, Shan. 2007. Bahasa, Masyarakat & Kekuasaan.
Yogyakarta: Pustaka Pelajar.
Wajdi, Majid. 2011. Reinterpretasi Teori Kata Sapaan dari Brown dan Gilman (1960):
Analisis Penggunaan Stratifikasi Tuturan Bahasa Jawa. Bali: Politeknik Negeri
Bali.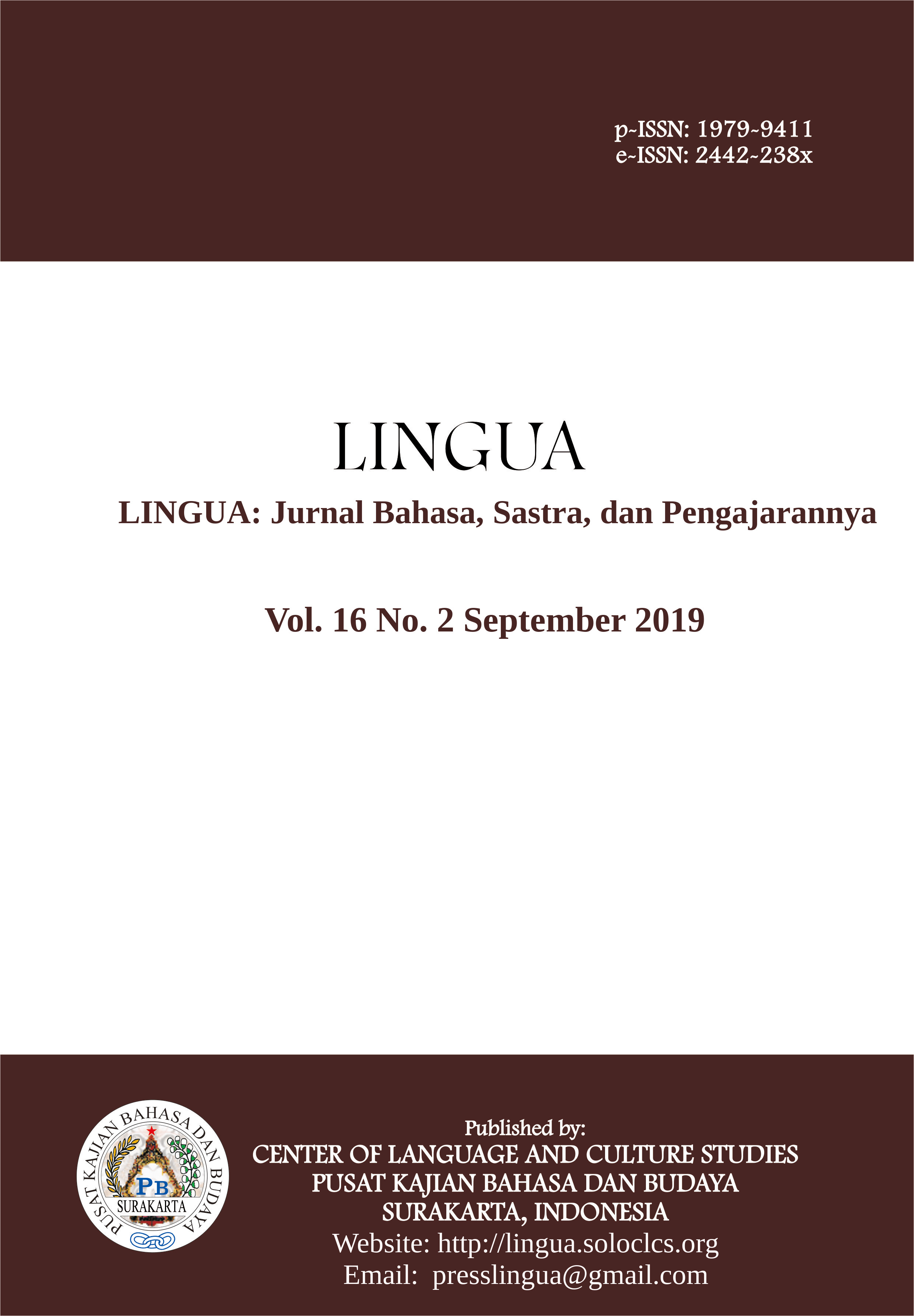 How to Cite
Mutlak, M., Arifuddin, A., & Yusra, K. (2019). Penamaan Diri Masyarakat Bima Sebagai Sapaan Hormat Kepada Orang yang Dituakan: Kajian Fonologis dan Kontribusinya dengan Pengajaran di SMP. LINGUA : Jurnal Bahasa, Sastra, Dan Pengajarannya, 16(2), 235-246. https://doi.org/10.30957/lingua.v16i2.605
Authors who publish with this journal agree to the following terms:
Authors retain copyright and grant the journal right of first publication with the work simultaneously licensed under a Creative Commons Attribution-ShareAlike 4.0 International License that allows others to share the work with an acknowledgement of the work's authorship and initial publication in this journal.
Authors are able to enter into separate, additional contractual arrangements for the non-exclusive distribution of the journal's published version of the work (e.g., post it to an institutional repository or publish it in a book), with an acknowledgement of its initial publication in this journal.
Authors are permitted and encouraged to post their work online (e.g., in institutional repositories or on their website) prior to and during the submission process, as it can lead to productive exchanges, as well as earlier and greater citation of published work (See The Effect of Open Access).