Semantik Idiom Bahasa Inggris Yang Menggunakan Leksem Apple
Rizky Ainun Maftuhah

Universitas Sumatera Utara

Mulyadi

Universitas Sumatera Utara
Abstract views:
14
,
pdf downloads:
15
Keywords:
Keywords: analysis; apple; idiom
Abstract
Idiom is a language unit whose meaning cannot be predicted from the structure that composes it. In English idioms, many idioms use elements of fruit names. The author takes the apple lexeme to be the object of research. This is because many English idioms use the apple lexeme. In this study, researchers will focus on lexical meaning and idiomatic meaning in idioms that use apple lexeme and the idiom patterns that compose them. The research method used is a qualitative descriptive method which is divided into two stages, namely the data collection stage and the data analysis stage. The results obtained from this study are the lexeme apple has food to describe a person, and there are three patterns that form idioms using the lexeme apple, namely 1) adjective + apple; 2) apple + noun; 3) noun + apple
Downloads
Download data is not yet available.
References
DAFTAR PUSTAKA
Chaer, Abdul. 1995. Pengantar Semantik Bahasa Indonesia. Jakarta: PT Rineka Cipta
Dixon, Robert J. 2003. Essential Idioms in English. New Jersey: prentice hall regents.
Fellbaum, Christiane. 2015. Is there a grammar of idioms? Paper presented at the 8th Brussels conference on generative linguistics, Brussels, 4–5 June.
Griffiths Pathrick. 2006. An Introduction To English Semantics And Pracmatics. Edinburgh University press Ltd.
Kridalaksana, Harimurti. 2008. Kamus Linguistik. Jakarta: PT Gramedia
Larson, Milfred L. 1984. Meaning Based Translation. United State of America: University Press of America.
Moleong, Lexy. 1997. Metedologi Penelitian Kualitatif. Bandung: Remaja Rosdakarya.
Miles B. Matthew And Huberman Michael A. 1994. Qualitative Data Analysis. Sage Publication Inc. California.
Pinnavaia, Laura. 2019. Food and Drink Idioms in English: "A Little Bit More Sugar". Newcastle: Cambridge Scholars Publishing.
Seidl Jennifer. 1989. English Idioms, Excercises On Idioms. Oxford University Press
Suprapto. 2017. Metodologi Penelitian untuk Karya Ilmiah. Yogyakarta: Gosyen Publishing.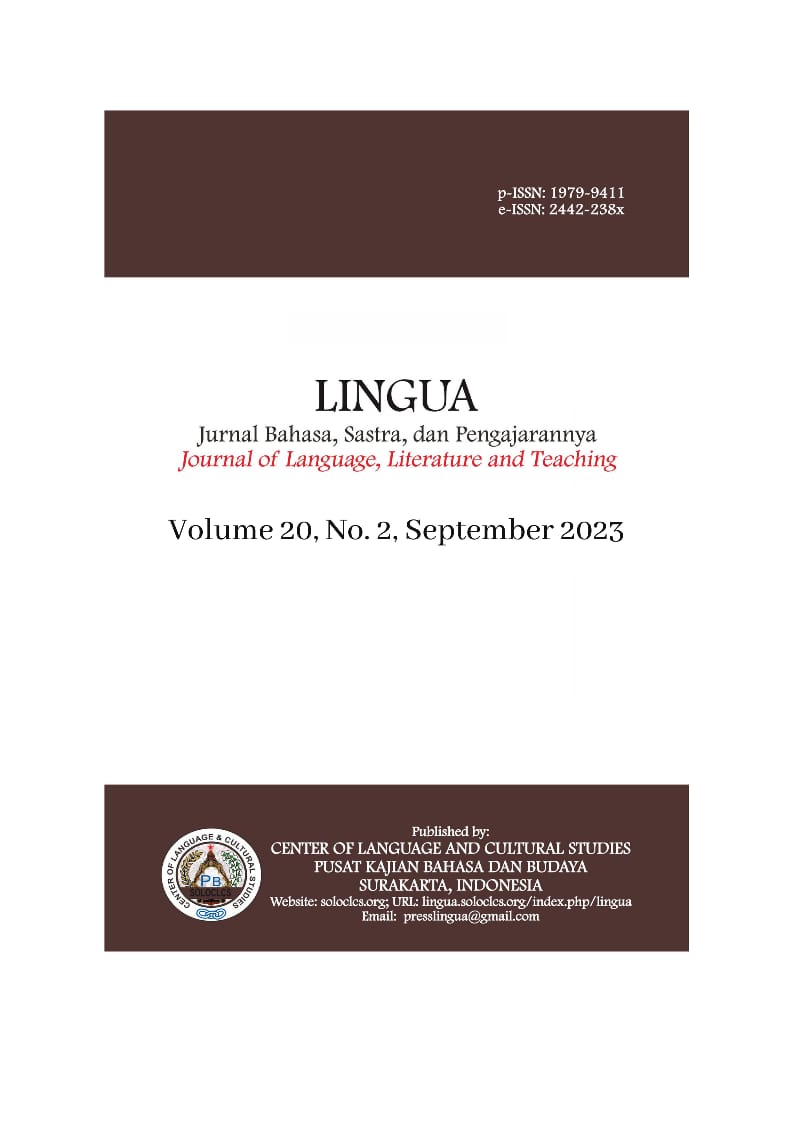 How to Cite
Maftuhah, R. A., & Mulyadi. (2023). Semantik Idiom Bahasa Inggris Yang Menggunakan Leksem Apple. LINGUA : Jurnal Bahasa, Sastra, Dan Pengajarannya, 20(2), 263-272. https://doi.org/10.30957/lingua.v20i2.789
Copyright (c) 2023 LINGUA : Jurnal Bahasa, Sastra, dan Pengajarannya
This work is licensed under a Creative Commons Attribution-ShareAlike 4.0 International License.
Authors who publish with this journal agree to the following terms:
Authors retain copyright and grant the journal right of first publication with the work simultaneously licensed under a Creative Commons Attribution-ShareAlike 4.0 International License that allows others to share the work with an acknowledgement of the work's authorship and initial publication in this journal.
Authors are able to enter into separate, additional contractual arrangements for the non-exclusive distribution of the journal's published version of the work (e.g., post it to an institutional repository or publish it in a book), with an acknowledgement of its initial publication in this journal.
Authors are permitted and encouraged to post their work online (e.g., in institutional repositories or on their website) prior to and during the submission process, as it can lead to productive exchanges, as well as earlier and greater citation of published work (See The Effect of Open Access).