Pengaruh Games Online Terhadap Kesantunan Bahasa Pada Anak Usia 12 Tahun
Rizky Ainun Maftuhah

Universitas Sumatera Utara

Siti Patimah

Universitas Sumatera Utara

Lara Desma

Universitas Sumatera Utara

Gustia Ningsih
Abstract views:
50
,
PDF downloads:
43
Keywords:
Kata Kunci: Games Online, kesantunan berbahasa,
Abstract
Permainan daring atau yang biasa dikenal dengan istilah Games Online merupakan permainan yang sangat menarik dan sangat marak terutama di kalangan anak-anak. Bagi anak-anak terutama ini menjadi magnet yang luar biasa. Namun hal tersebut membuat anak-anak lupa akan dirinya bahkan sampai pergaulan, bahasa, dan kata-kata yang mereka komunikasikan sangat tidak layak untuk didengar. Hal ini dapat mempengaruhi kesantunan berbahasa pada anak-anak Tentunya, ini menjadi suatu hal yang menarik untuk dikaji dan diteliti. Tujuan penelitian ini adalah untuk mengetahui pengaruh Games Online terhadap tingkat kesantunan bahasa pada anak usia 12 tahun, yang dilaksanakan pada bulan Maret 2022 dengan desain penelitian kualitatif. Subjek penelitian terfokus kepada murid bimbel kelas 6 SD di lembaga Brain Academy Medan by Ruangguru. Teknik pengumpulan data melalui wawancara dan observasi di kelas. Jumlah keseluruhan responden adalah 5 anak, yang terdiri atas 1 anak perempuan dan 4 anak laki-laki. Hasil penelitian menunjukkan bahwa kesantunan anak di dalam berbahasa dipengaruhi oleh banyak faktor. Salah satunya adalah faktor lingkungan. Lingkungan anak yang lebih sering dihabiskan dengan bermain game online menyebabkan anak anak tersebut menggunakan bahasa yang dipeoleh dari game online dalam percakapan sehari – hari. Kata – kasar baik dalam bahasa Inggris maupun dalam bahasa Indonesia banyak digunakan seperti ,Fuck you, damn, gilalah, anjing, anak pungut kau,bodoh, babi, . Oleh karena itu, peran orang tua sangat diperlukan agar anak dapat menghasilkan bahasa bahasa yang santun. Kebiasaan berbahasa santun perlu dilakukan mulai dari lingkungan keluarga.
Downloads
Download data is not yet available.
References
Benham, B., Sakhaei, S. R., & Nabifar, N. (2014). The Sociolinguistic Analysis of Harold Pinter's "The Birthday Party" in terms of Brown and Levinson's Politeness Theory.
Desvita, Psikologi Perkembangan, 2008. Jakarta : Rosda
Dowlatabadi, H., Mehri, E., & Tajabadi, A. (2014). Politeness Strategies in Conversation Exchange: The Case of Council for Dispute Settlement in Iran. Procedia - Social and Behavioral Sciences, 98, 411–419. https://doi.org/10.1016/j.sbspro.2014.03.434
Duleimi, hutheifa Y. Al, Rashid, S. M., & Abdullah, A. N. (2016). A Critical Review of Prominent Theories of Politeness. Advances in Language and Literary Studies, 7(6), 262–270. https://doi.org/10.7575/aiac.alls.v.7n.6p.26
Piaget, J. The Language and Thought of The Child. New York: Humanities Press, 1965
Poerwo, Bambang Kaswati, 1991. "Perkembangan Bahasa Anak Pragmatik dan Tata Bahasa" dalam Dardjowidjojo. Jakarta : Obor.
Watts, R. J. (2003). Politeness. Cambridge: Cambridge University Press.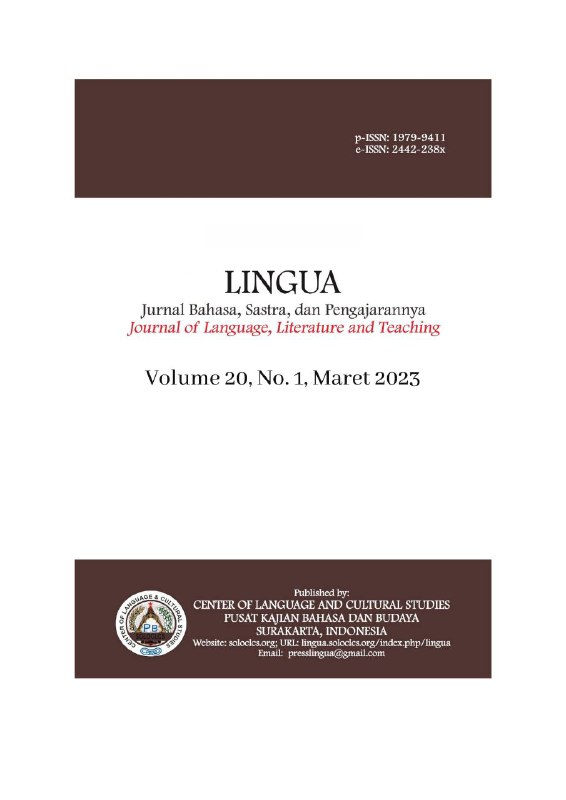 How to Cite
Maftuhah, R. A., Siti Patimah, Lara Desma, & Gustia Ningsih. (2023). Pengaruh Games Online Terhadap Kesantunan Bahasa Pada Anak Usia 12 Tahun. LINGUA : Jurnal Bahasa, Sastra, Dan Pengajarannya, 20(1), 55-66. https://doi.org/10.30957/lingua.v20i1.790
Copyright (c) 2023 LINGUA : Jurnal Bahasa, Sastra, dan Pengajarannya
This work is licensed under a Creative Commons Attribution-ShareAlike 4.0 International License.
Authors who publish with this journal agree to the following terms:
Authors retain copyright and grant the journal right of first publication with the work simultaneously licensed under a Creative Commons Attribution-ShareAlike 4.0 International License that allows others to share the work with an acknowledgement of the work's authorship and initial publication in this journal.
Authors are able to enter into separate, additional contractual arrangements for the non-exclusive distribution of the journal's published version of the work (e.g., post it to an institutional repository or publish it in a book), with an acknowledgement of its initial publication in this journal.
Authors are permitted and encouraged to post their work online (e.g., in institutional repositories or on their website) prior to and during the submission process, as it can lead to productive exchanges, as well as earlier and greater citation of published work (See The Effect of Open Access).