ANALISIS KESALAHAN PENYEBUTAN NOMINAL UANG DALAM BAHASA MANDARIN
Imelda

Universitas Kristen Maranatha
Abstract views:
41
,
PDF downloads:
42
Keywords:
Mandarin, Nominal Money, Mention
Abstract
Students will never escape mistakes in learning a language, be it their mother tongue as a first language or a foreign language as a second language. If analyzed, errors in language will help the language learning process be more mature and reasonable. In the process of learning Mandarin, money is something that will be encountered in everyday life. It is common for Chinese learners to make mistakes in mentioning money nominal, considering that there are several different factors in the writing rules and the rules for mentioning money nominal in Rupiah from Indonesia and the Renminbi currency from China. Based on this, the researcher believes that research is needed to analyze the mistakes that Indonesians often make in mentioning money nominal in Chinese so that the results can be observed by both teachers and students of Mandarin so that mistakes do not occur again in practice.
Keywords: Mandarin, Nominal Money, Mention
Downloads
Download data is not yet available.
References
Alwasilah, A. C. (1993). Pengantar Sosiologi Bahasa. Bandung: Angkasa.
Djiwandono, S. M. (1996). Tes Bahasa Dalam Pengajaran Bahasa. Bandung : Penerbit ITB Bandung.
Hastuti, S. (1989). Sekitar Analisis Kesalahan Berbahasa Indonesia. Yogyakarta: PT. Mitra Gama Widya.
Heuken SJ, A. (1987). Kamus Jerman Indonesia. Jakarta : Penerbit PT Gramedia.
James, C. (1998). Errors in Language Learning and Use Exploring Error Analysis. New York: Longman.
Keraf, G. (1997). Tata Bahasa Rujukan Bahasa Indonesia. Jakarta: PT. Grasindo.
Kesuma, J.T.M.. (2007). Pengantar (Metode) Penelitian Bahasa. Yogyakarta: Carasvatibook.
Kridalaksana, Harimurti. (1984). Kamus Linguistik. Edisi Ke-2 Cetakan Pertama. Jakarta: PT. Gramedia.
Pateda, M. (1989). Analisis Kesalahan Bahasa. Flores: Nusa Indah.
Pranowo. (2014). Teori Belajar Bahasa. Yogyakarta: Pustaka Belajar.
Prastowo, A. (2008). Menguasai Teknik-teknik Data Penelitian Kualitatif. Yogyakarta: Diva Press.
Sugiyono. (2014). Metode Penelitian Kuantitatif Kualitatif dan R&D. Bandung: Alfabeta.
Tarigan, H. G. (1987). Pengajaran Wacana. Bandung: Angkasa
Xingjian, L. (2010). Xiandai Hanyu Guifan Cidian. Beijing: Waiyu Jiaoxue yu Yanjiu Chubanshe & Yuwen Chubanshe.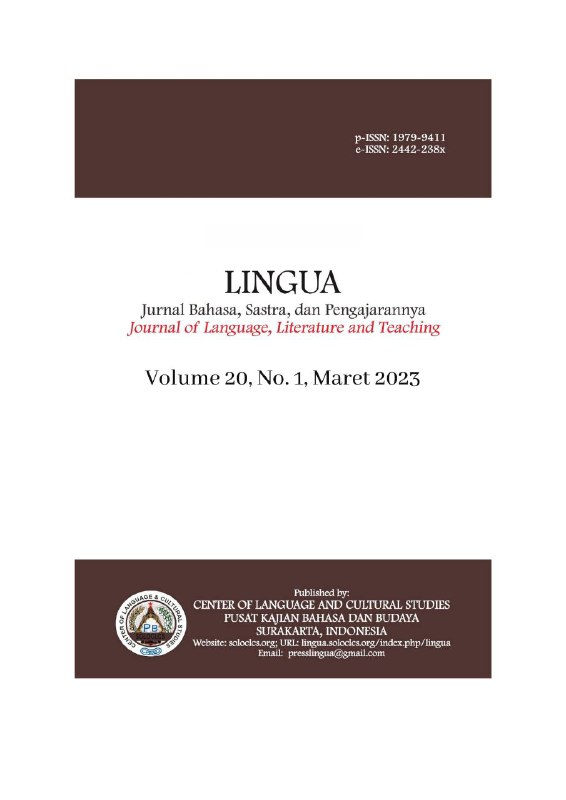 How to Cite
Imelda. (2023). ANALISIS KESALAHAN PENYEBUTAN NOMINAL UANG DALAM BAHASA MANDARIN . LINGUA : Jurnal Bahasa, Sastra, Dan Pengajarannya, 20(1), 67-79. https://doi.org/10.30957/lingua.v20i1.799
Copyright (c) 2023 LINGUA : Jurnal Bahasa, Sastra, dan Pengajarannya
This work is licensed under a Creative Commons Attribution-ShareAlike 4.0 International License.
Authors who publish with this journal agree to the following terms:
Authors retain copyright and grant the journal right of first publication with the work simultaneously licensed under a Creative Commons Attribution-ShareAlike 4.0 International License that allows others to share the work with an acknowledgement of the work's authorship and initial publication in this journal.
Authors are able to enter into separate, additional contractual arrangements for the non-exclusive distribution of the journal's published version of the work (e.g., post it to an institutional repository or publish it in a book), with an acknowledgement of its initial publication in this journal.
Authors are permitted and encouraged to post their work online (e.g., in institutional repositories or on their website) prior to and during the submission process, as it can lead to productive exchanges, as well as earlier and greater citation of published work (See The Effect of Open Access).