EKSPRESI BAHASA INDONESIA TULIS BERDASARKAN GENDER PADA MEDIA FACEBOOK
Iin Fitriyani

Unram

Sudirman Wilian

Unram

Kamaludin Yusra

Unram
Abstract views:
125
,
PDF downloads:
191
Keywords:
gender, media facebook, status facebook.
Abstract
This study aims to determine differences in the choice of topics of conversation between men and women on Facebook media. This study was qualitative in nature, examining the corpus of facebookers available on the internet. The process of data collection was done by referring to the record and documentation method. In the analysis process, data were classified and analyzed based on Tuncay's theory (2006) in determining the theme of masculinity and Cholik (2016) theory in determining the theme of femininity. The results showed that male users tended to upload themes to show their masculinity such as physical strength, altruism, women and sex, love and family, pleasure or fun, leadership, outdoor activities, as well as spirituality and morality, while female users tended to upload theme to reflect the feminine side, such as cooking, parenting, beauty, traveling, hobbies, and fashion.
Downloads
Download data is not yet available.
References
Cholik, A. 2016. 7 Topik yang dapat Ditulis oleh Perempuan. Online (http://www.abdulcholik.com/tip-blogging/7-topik-ynag-dapat-ditulis-oleh-blogger-wanita). Diakses 14 Mei 2018
Chulsum, Umidan Windy Novia.2014. Kamus Besar Bahasa Indonesia. Surabaya: Yoshiko Press.
Corrie. 2017. Teori Gender dalam Komunikasi. (online), (http://pakarkomunikasi:com/teori-gender-dalam-komunikasi-pengertian-konsep), diakses 7 Maret 2018.
Endriastuti, A. 2014. Konsep Maskulinitas Bonek Surabaya dalan Perspektif Budaya Arek. Tesis. Surabaya: FIB Universitas Airlangga.
Fakih, Mansour. 2006. Analisis Gender dan Transformasi Sosial. Yogyakarta: Pustaka Pelajar.
Keraf, Gorys. 2004. Komposisi: Sebuah Pengantar Kemahiran Bahasa. Flores: Nusa Indah.
Kridalaksana, Harimurti. 1985. Fungsi Bahasa dan Sikap Bahasa. Flores: Nusa Indah
Kuntjara, Esther. 2003. Gender, Bahasa, dan Kekuasaan. Jakarta: PT. BPK Gunung Mulia dan UK Petra Surabaya.
Lakoff, R. 1975. "Language and Women's Place". New York: Cambridge University Press. Online (http://Universalteacher.org.uk). Diakses 15 Mei 2018.
Mahsun. 2014. Metode Penelitian Bahasa. Jakarta: Rajawali Press.
Moleong, L. J. 2013. Metode Penelitian Kualitatif. Bandung: PT Remaja Rosdakarya.
Muhammad. 2011. Paradigma Kualitatif Penelitian Bahasa. Yogyakarta: Liebe Book Press.
Prakasa, J.S. 2015. Komunikasi dan Gender: Perbandingan Gaya Komunikasi dalam Budaya Maskulin dan Feminim. Jurnal Ilmu Politik dan Komunikasi. 5 (1): 1-19.
Shaevitz, Marjonrie Hansen. 1989. Wanita Super. Terjemahan dari buku asli "The Superwomen Syndrome". 1984. Alih Bahasa Agus Santoso. Yogyakarta: Kanisius.
Silalahi, Ulber. 2012. Metode Penelitian Sosial. Bandung: Reflika.
Sudaryanto. 1993. Metode dan Aneka Teknik Analisis Bahasa (Pengantar Penelitian Wahana Kebudayaan Secara Linguistis). Yogyakarta: Duta Wacara University Press.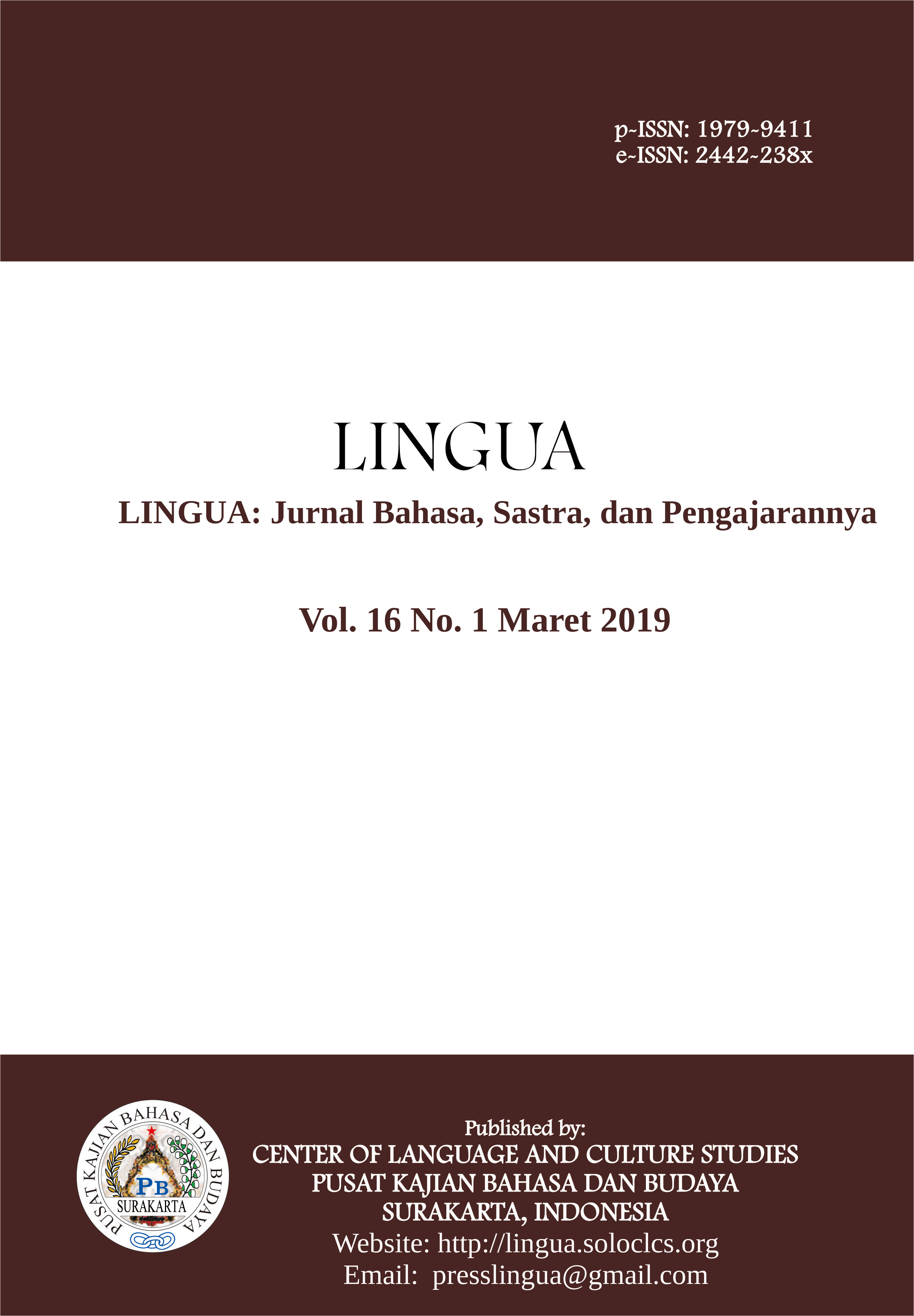 How to Cite
Fitriyani, I., Wilian, S., & Yusra, K. (2019). EKSPRESI BAHASA INDONESIA TULIS BERDASARKAN GENDER PADA MEDIA FACEBOOK. LINGUA : Jurnal Bahasa, Sastra, Dan Pengajarannya, 16(1), 137-156. https://doi.org/10.30957/lingua.v16i1.581
Authors who publish with this journal agree to the following terms:
Authors retain copyright and grant the journal right of first publication with the work simultaneously licensed under a Creative Commons Attribution-ShareAlike 4.0 International License that allows others to share the work with an acknowledgement of the work's authorship and initial publication in this journal.
Authors are able to enter into separate, additional contractual arrangements for the non-exclusive distribution of the journal's published version of the work (e.g., post it to an institutional repository or publish it in a book), with an acknowledgement of its initial publication in this journal.
Authors are permitted and encouraged to post their work online (e.g., in institutional repositories or on their website) prior to and during the submission process, as it can lead to productive exchanges, as well as earlier and greater citation of published work (See The Effect of Open Access).