Perempuan di Bidang Politik dalam Surat Kabar Lombok Post Tahun 2019: Analisis Wacana Kritis Perspektif Teun A. Van Dijk
Baiq Fahriatin Bakri

Universitas Mataram, NTB

Johan Mahyudi

Universitas Mataram, NTB

Mahsun Mahsun

Universitas Mataram, NTB
Abstract views:
308
,
pdf downloads:
238
Keywords:
women, politics, newspapers, van Dijk's critical discourse analysis
Abstract
This study focuses on the analysis of critical discourse on microstructure, superstructure, and macrostructure in women's text in the political field in the Lombok Post newspaper in 2019. The theory used in this study is the theory of critical discourse analysis according to Teun A. van Dijk on the text dimension which consists of microstructures related to linguistic aspects consisting of semantic, syntactic, stylistic, and rhetorical elements. Superstructures related to the structure of the text or the text scheme. Macrostructure related to the theme in general. This research is qualitative research. Data collection methods in this study use the method of literature, which is a method that can help researchers in collecting data and filtering data that will be used for research. The data analysis method in this research uses the data analysis method according to Miles and Huberman. The results of this study show how the text analysis of news texts about women in politics in the Lombok Post newspaper in 2019 is based on van Dijk's discourse analysis theory.
Downloads
Download data is not yet available.
References
Afdhal, Lalu Muh. Raqib. 2017. Analisis Wacana Kritis Representasi Citra Aparat Penegak Hukum dalam Media Lombok Post. Tesis: Universitas Mataram.
Badara, Aris. 2013. Analisis Wacana: Teori, Metode, dan Penerapannya pada Wacana Media. Jakarta: KENCANA.
Darma, Yoce Aliah. 2013. Analisis Wacana Kritis. Bandung: Yrama Widya.
Depdikbud. 2003. Kamus Besar Bahasa Indonesia. Jakarta: Balai Pustaka.
Eriyanto. 2012. Analisis Wacana Pengantar Analisis Teks Media, cetakan ke-12. Yogyakarta: PT. LKiS Printing Cemerlang.
Fuchran, Arief. 1998. Pengantar Metode Penelitian Kualitatif. Surabaya: PUN.
Hidayat, Imam. 2009. Teori-teori Politik. Malang: Setara Press.
Imam, Ahmad Fachruddien. 2012. Analisis Wacana van Dijk pada Lirik Lagu Irgaa Tani (My Heart Will Go On). Jurnal: Universitas Negeri Semarang.
Muhajir, Muhamad. 2015. Tata Bahasa Sebagai Cerminan Nilai Ideologis Wacana Politik Perempuan dalam "Kolom Perempuan": Kajian Analisis Wacana Kritis Atas Teks Di Harian Suara Merdeka. Jurnal.
Mulia, Siti Musdah. 2007. Islam dan Inspirasi Kesetaraan Gender. Yogyakarta: Kibra Press.
Mushaitir. 2016. Analisis Wacana Kritis Berita Kebijakan Pendidikan dalam Media Cetak Lombok Post dan Relevansinya terhadap Pembelajaran Wacana di Perguruan Tinggi. Tesis: Universitas Mataram.
Nazir. 2011. Metode Penelitian. Jakarta : Ghalia Indonesia.
Prihantoro, Edy. 2018. Stereotip Perempuan Calon Legislatif dalam Wacana Media Massa Online di Tahun Politik. Jurnal Semiotika. Vol.12.(No.1).Hal.16-24. DOI:10.30813/s:jk:v12i1.1540.
Putri, Rini Susanti. 2013. Analisis Wacana Representasi Kasus Korupsi Pejabat dalam Harian Lombok Post dan Relevansinya dengan Pembelajaran Mata Kuliah Analisis Wacana di Perguruan Tinggi. Tesis: Universitas Mataram.
Rista, Intan Zulfiana. 2013. "Analisis Wacana Konstruksi Perempuan di Bidang Politik dalam Majalah Kartini Edisi Khusus 100 Wanita Terinspiratif Tahun 2008-2011 Kategori Politik". Skripsi: Universitas Muhammadiyah Surakarta.
Sobur, Alex. 2015. Analisis Teks Media: Suatu Pengantar untuk Analisis Wacana, Analisis Semiotik, dan Analisis Farming. Bandung: PT. Remaja Rosdakarya.
Subhan, Zaitunah. 2004. Kodrat Perempuan, Takdir, atau Mitos. Jakarta: Lkis.
van Dijk, Teun. 1998. Ideology: A Multidisciplinary Approach. London: SAGE Publications.
van Dijk, Teun. 1985. Discourse and Literature_ New Approaches to the Analysis of Literary Genres. Amsterdam: John Benjamins Publishing Company.
Yule, George. 1996. Analisis Wacana. Jakarta: PT. Gramedia Pustaka Utama.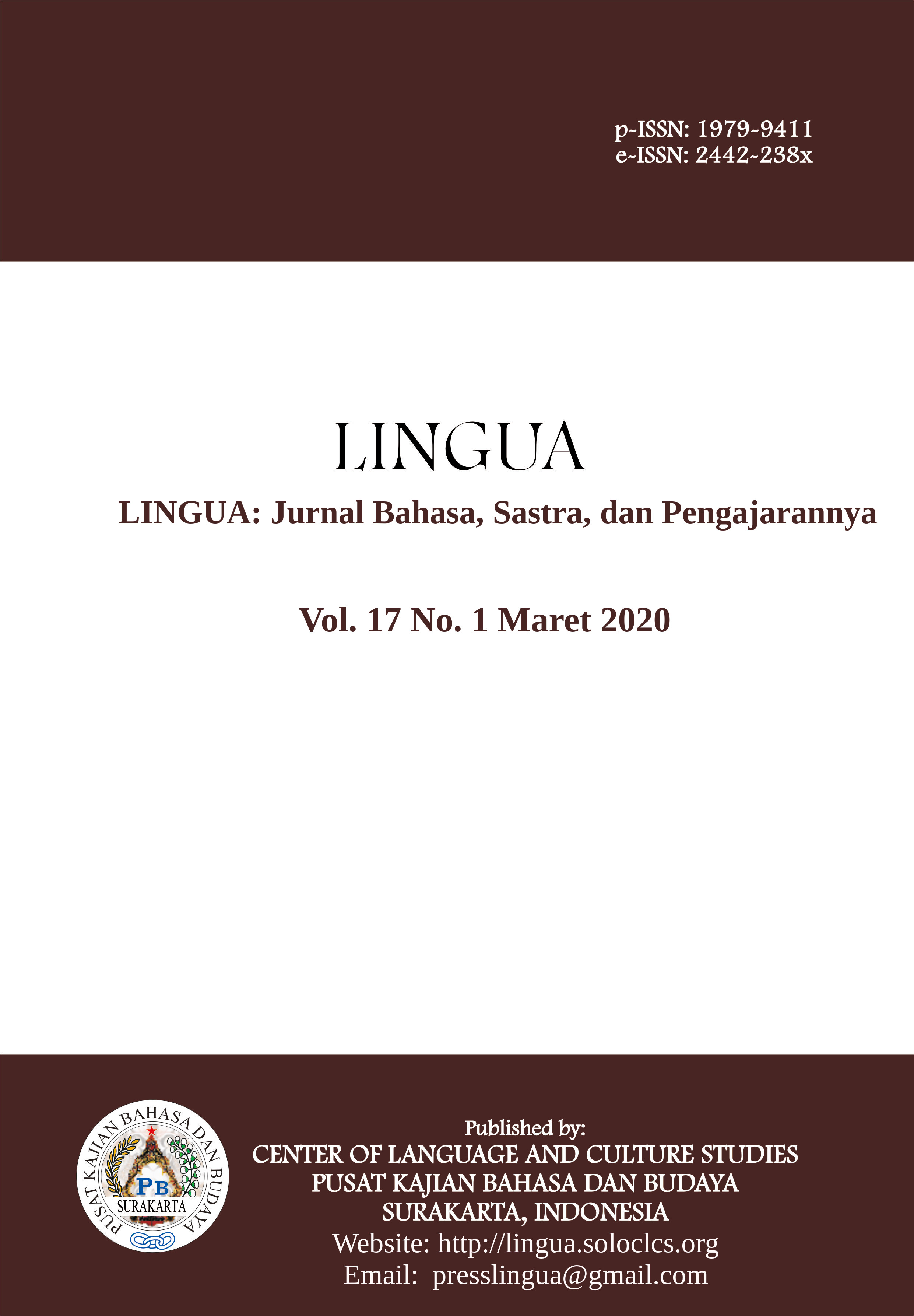 How to Cite
Bakri, B. F., Mahyudi, J., & Mahsun, M. (2020). Perempuan di Bidang Politik dalam Surat Kabar Lombok Post Tahun 2019: Analisis Wacana Kritis Perspektif Teun A. Van Dijk. LINGUA : Jurnal Bahasa, Sastra, Dan Pengajarannya, 17(1), 65-78. https://doi.org/10.30957/lingua.v17i1.625
This work is licensed under a Creative Commons Attribution-ShareAlike 4.0 International License.
Authors who publish with this journal agree to the following terms:
Authors retain copyright and grant the journal right of first publication with the work simultaneously licensed under a Creative Commons Attribution-ShareAlike 4.0 International License that allows others to share the work with an acknowledgement of the work's authorship and initial publication in this journal.
Authors are able to enter into separate, additional contractual arrangements for the non-exclusive distribution of the journal's published version of the work (e.g., post it to an institutional repository or publish it in a book), with an acknowledgement of its initial publication in this journal.
Authors are permitted and encouraged to post their work online (e.g., in institutional repositories or on their website) prior to and during the submission process, as it can lead to productive exchanges, as well as earlier and greater citation of published work (See The Effect of Open Access).