Body Language and Its Universal Meaning: the Interpretation of Body Language in the Little Black Book Film
Lalu Suhirman

Universitas Cenderawasih Jayapura, Papua
Abstract views:
651
,
pdf downloads:
628
Keywords:
body language, facial expression, non–verbal language
Abstract
This study aims to examine body language, namely facial expressions that appear in film scenes entitled 'Little Black Book'. Therefore, this study discusses two research questions: 1) what conventional meaning is expressed by the facial expressions of central figures in 'Little Black Book' film?  2) what are the forms and patterns of body language that carry important messages besides facial expressions in 'Little Black Book' film? This study uses a qualitative approach to analyze data. The data source of this research is the film "Little Black Book". The data of this study are certain scenes related to body language. Data is collected through observation, which is watching carefully and repeatedly, and cutting or copying images that show gesture or gesture of body language. The result found was facial expressions which specified at  upper neck, namely: head, eyes, and mouth. while the other parts of body language were  hands and other acts of body language.
Downloads
Download data is not yet available.
References
Adler, Ronald, B., & Rodman, George. 2000. Understanding Human Communication. (9th. Ed.). Oxford University Press.

Allan & Pease, B. (2004). The Definitive Book of Body Language: How Body Language Reveals Emotions and Thoughts. Australia: McPherson's Printing Group
Albert, M. (1971). Silent Messages. (1st edition). Belmont, CA: Wadsworth.

Bowden, M. (2010). Winning Body Language; Control the Conversation, Command Attention, and Convey the Right Message— Without Saying a Word. New York: McGraw-Hill.

Calero, Henry,H. 2005. The Power of Nonverbal Communication. Los Angeles: Silver Lake Publisher.

Crystal, D. (2003).The Cambridge Encyclopaedia of the English Language. Cambridge:Cambridge University Press.

De Gelder, B. (2006). Towards the neurobiology of emotional body language. Nat RevNeurosci. VOL. 7(3): (242-249).

Eggert, M.A. (2010). Body Language: Impress, Persuade and succeed with the power of body language. New York: Prentice Hall.

Ekman, P. (2005). What the face reveals (2nd edition): Basic and applied studies of spontaneous expression using the Facial Action Coding System (FACS). (p. 388 – 392).

James, J. (2007). The Body Language Rules: A Savvy Guide to Understanding Who's Flirting, Who's Faking, and Who's Really Interested. Nappille, Illinois: Sourcebooks, Inc.

Knapp, M. (1978). Nonverbal Communication in Human Interaction. (2nd Edition) Holt, Rinehart and Winston Inc., New York.

Lastig, M.,W., & Koester,J.(2010). Intercultural Competence: Interpersonal Communication accross Cultures. (6th Ed.). Unitate States: Pearson Education, Inc.

Neirenberg, G.I. &Calero, H.H. (2012). How to Read a Person Like a Book. New York: Simons & Schuster Inc.
Pantic, M. A. Pentland, A. Nijholt, A. and Huang, T. (2007). Human computing and machine understanding of human behavior: A survey. In T.S. Huang, A. Nijholt, M. Pantic, and A. Pentland, editors, Artificial Intelligence for Human Computing, volume 4451, (pages 47– 71), Springer.

Wiley. J. & Sons. (2007). Body Language For Dummies. England: John Wiley & Sons, Ltd The Atrium Southern Gate Chichester West Sussex PO19 8SQ

http://www.businessballs.com/search businessballs.htm?cx=010837026464449256333).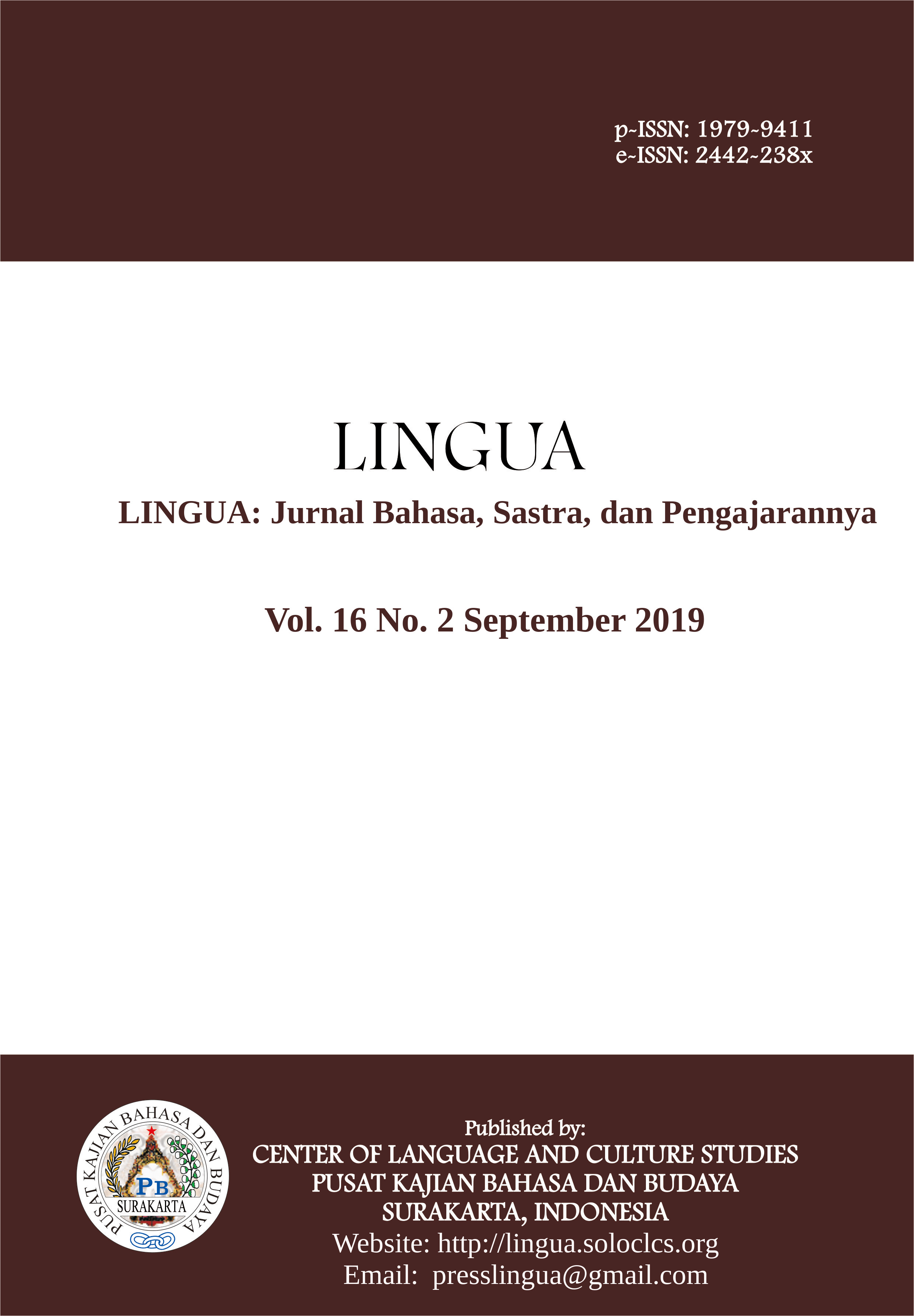 How to Cite
Suhirman, L. (2019). Body Language and Its Universal Meaning: the Interpretation of Body Language in the Little Black Book Film. LINGUA : Jurnal Bahasa, Sastra, Dan Pengajarannya, 16(2), 175-194. https://doi.org/10.30957/lingua.v16i2.599
Copyright (c) 2019 LINGUA: Journal of Language, Literature and Teaching
This work is licensed under a Creative Commons Attribution-ShareAlike 4.0 International License.
Authors who publish with this journal agree to the following terms:
Authors retain copyright and grant the journal right of first publication with the work simultaneously licensed under a Creative Commons Attribution-ShareAlike 4.0 International License that allows others to share the work with an acknowledgement of the work's authorship and initial publication in this journal.
Authors are able to enter into separate, additional contractual arrangements for the non-exclusive distribution of the journal's published version of the work (e.g., post it to an institutional repository or publish it in a book), with an acknowledgement of its initial publication in this journal.
Authors are permitted and encouraged to post their work online (e.g., in institutional repositories or on their website) prior to and during the submission process, as it can lead to productive exchanges, as well as earlier and greater citation of published work (See The Effect of Open Access).