Kemampuan Guru Melaksanakan Pembelajaran Bahasa Indonesia Berbasis Kurikulum 2013 di SMPN 1 Pujut, Nusa Tenggara Barat
Aa Nunu Aste Lestari

Mataram University

Rusdiawan Rusdiawan

Sudirman Sudirman
Abstract views:
191
,
pdf downloads:
149
Keywords:
lesson plan, teaching learning process, the 2013 Curriculum
Abstract
In this study, we address two purposes: to see the appropriateness between the lesson plan and comprehensible aspects of the 2013 Curriculum components, and appropriateness between teaching preparation made by teachers and the K-13 contents.  This study employed qualitative approached applying observation and questionnaire to collect data.  Analysis was based upon Miles and Huberman (1994) theories on data collection, data reduction, data display, verification and cioncklusion drawing.  Results show that the suitability between completeness of the components lesson plan with Curriculum 2013 is very less appropriate and the percentage suitability between learning process with teacher's lesson plan 54.34% indicates low appropriateness.  Completeness and components of lesson plan are low in seven aspects:  indicator formulation, learning objectives,  material development,  teaching method plan, selection of media and learning resources, plan of teaching stages,  and assessment and evaluation process.  In addition, the appropriateness of learning process and plan in the lesson plan is perceived in different way dependent in teacher role and context when teaching in the classroom.
Downloads
Download data is not yet available.
References
Arifin, Zainal. (2014). Evaluasi Pebelajaran: Prinsip Teknin Prosedur. Bandung: Remaja Rosdakarya
Bariyah, Lailatul. 2014. Analisis Kesesuaian RPP dan Pelaksanaan Pembelajaran Guru SMPN di Kabupaten Mojokerto pada Sub Materi Fotosintesis dengan Kerikulum 2013. Jurnal BioEdu,Vol 03, hlm 453-460.
Bintari, Ni Luh Gede Riwan Putri. 2014. Pembelajaran Bahasa Indonesia BerdasarkanPendekatan Saintifik (Problem Based Learning) Sesuai Kurikulum 2013 di Kelas VIISMP Negeri 2 Amlapura. E-Journal Program Pascasarjana Universitas Pendidikan Ganesha Program Studi Pendidikan Bahasa Indonesia, vol 03
Daryanto dan Dwicahyono, Aris. (2014). Pengembangan Perangkat Pembelajaran: Silabus, RPP, PHB, Bahan Ajar. Yogyakarta: Gava Media
Kementrian Pendidikan dan Kebudayaan. (2014). Materi Pelatihan Implementasi 2013 Tahun Ajaran 2014/2015 Mata Pelajaran Bahasa Indonesia SMP: Badan Pengembangan Sumber Daya Manusia Pendidikan dan Kebudayaan dan Penjaminan Mutu Pendidikan Kementerian Pendidikan dan Kebudayaan
Mahayoningrum, Prita. (2014). Analisis Rencana Pelaksanaan Pembelajaran (RPP) Bahasa Indonesia Aspek Keterampilan Menulis Kelas XI SMA Negeri 2 Jember Tahun Ajaran 2012/2013 : Universitas Jember
Mahsun. (2014). Teks dalam Pembelajaran Bahasa Indonesia Kurikulum 2013. Jakarta: Raja Grafindo Persada
Martiyono, dkk. (2014). Mengelola dan Mendampingi Implementasi Kurikulum 2013: Adaptasi Hasil Pelatihan Kepala Sekolah, Guru Mata Pelajaran, dan Pendamping. Yogyakarta: Aswaja Pressindo
Mudlofir, Ali dan Rusydiyah, Evi Fatimatur.(2017). Desain Pembelajaran Inovatif: Dari Teori ke Praktik. Jakarta: Rajawali Pers
Mulyasa, E. (2007). Kurikulum Tingkat Satuan Pendidikan: Suatu Panduan
Praktis. Bandung: Remaja Rosdakarya.
Muhammad. (2014). Metode Penelitian Bahasa.Jogjakarta: Ar-Ruzz Media
Peraturan Menteri Pendidikan dan Kebudayaan Nomor 81A Tahun 2013 tentang Implementasi Kurikulum 2013.
Peraturan Menteri Pendidikan dan Kebudayaan No. 64, Standar
Isi Pendidikan Dasar dan Menengah.
Peraturan Pemerintah RI Nomor 32 Tahun 2013, Perubahan atas
Peraturan Pemerintah Nomor 19 Tahun 2005 tentang Standar Nasional
Pendidikan.
Priyatni, Endah Tri. (2014). Desain Pembelajaran Bahasa Indonesia Dalam Kurikulum 2013. Jakarta: Bumi Aksara
Setyawanto, Agung. Rencana Pelaksanaan Pembelajaran (RPP) Guru Bahasa IndonesiaTingkat SMP di Kota Malang. Malang: Universitas Negeri Malang
Sugiyono. (2018). Metode Penelitian Pendidikan: Pendekatan Kuantitatif, Kualitatif, dan R&D. Bandung: Alfabeta
Suhertuti. (2017). Persepsi Guru Bahasa Indonesia Terhadap Materi Sastra pada Kurikulum Tingkat Satuan Pendidikan dan Kurikulum 2013.1(2).170-188.doi.org/10.21009/AKSIS.271217
Syamsuddin dan Damaianti, Vismaia S. (2011). Metode Penelitian Pendidikan Bahasa. Bandung: Remaja Rosdakarya
Tim Dosen Administrasi Pendidikan Universitas Pendidikan Indonesia. 2009. Manajemen Pendidikan. Bandung: Alfabeta
Undang-undang Republik Indonesia No. 20 Tahun 2003, Sistem
Pendidikan Nasional.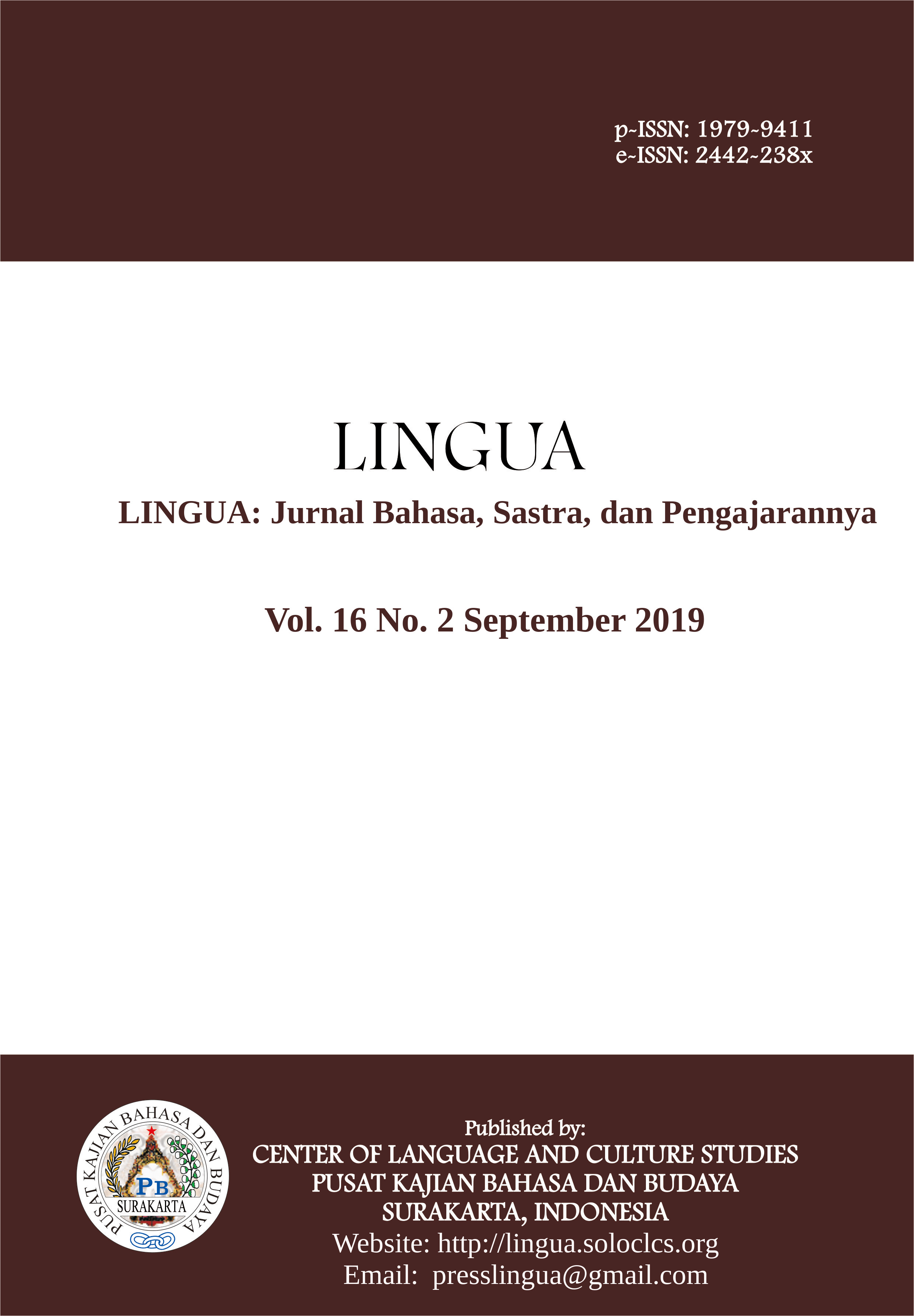 How to Cite
Lestari, A. N. A., Rusdiawan, R., & Sudirman, S. (2019). Kemampuan Guru Melaksanakan Pembelajaran Bahasa Indonesia Berbasis Kurikulum 2013 di SMPN 1 Pujut, Nusa Tenggara Barat. LINGUA : Jurnal Bahasa, Sastra, Dan Pengajarannya, 16(2), 207-218. https://doi.org/10.30957/lingua.v16i2.603
Authors who publish with this journal agree to the following terms:
Authors retain copyright and grant the journal right of first publication with the work simultaneously licensed under a Creative Commons Attribution-ShareAlike 4.0 International License that allows others to share the work with an acknowledgement of the work's authorship and initial publication in this journal.
Authors are able to enter into separate, additional contractual arrangements for the non-exclusive distribution of the journal's published version of the work (e.g., post it to an institutional repository or publish it in a book), with an acknowledgement of its initial publication in this journal.
Authors are permitted and encouraged to post their work online (e.g., in institutional repositories or on their website) prior to and during the submission process, as it can lead to productive exchanges, as well as earlier and greater citation of published work (See The Effect of Open Access).